ACAMS anti-financial crime symposium programme: 4 key takeaways
While the encompass team require little incentive to enjoy the delights of Dublin, we did so with an extra spring in our step last week (despite the rain!)
As part of our day trip we were Gold sponsors, along with our partner Lysis Operations, at the ACAMS Anti-Financial Crime Symposium taking place at the Radisson Blu in the city. The ACAMS conference is one we have attended repeatedly over the last few years and have continually found it to be one of the most engaging and well put together financial crime conferences on our yearly agenda.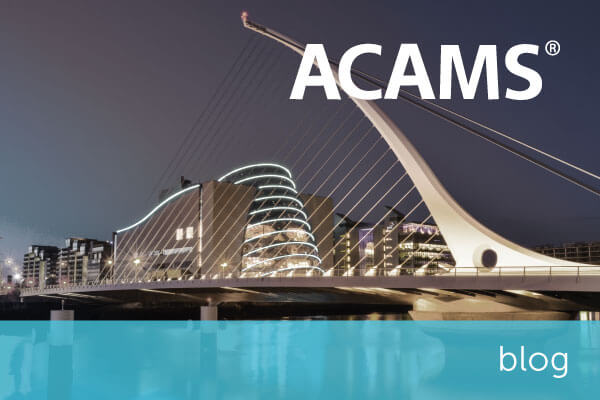 Knowing the quality of this event as we did, the caliber of speaker and attendees, we decided to show our support by partnering with ACAMS and taking out Gold level sponsorship.
This year we were confident of another excellent event. Speaking on the day to give their viewpoints on financial crime were the likes of Domhnall Cullinan, Head of Anti-Money Laundering Division, Central Bank of Ireland; Mark Bonham, Senior compliance programme manager, Airbnb Payments; Paul Ryan, senior director global compliance investigations, Paypal, and; Chloe Cina, UK Head of Sanctions Regulatory & Complex Advisory, HSBC Bank.
The day was structured around four major themes. They were, the role that law enforcement plays, and how it continually reviews and updates procedure to catch criminals; Politically Exposed Persons (PEPs) and what banks need to be wary of; the importance of both communication and collaboration in thwarting financial crime; and current thoughts around the 5th Anti-Money Laundering Directive, which is being reviewed by the Financial Action Task Force (FATF).
law enforcement
From listening to the first session on financial crime and regulator perspectives featuring speakers such as Domhnall Cullinan, and Alf Martyn, Detective Superintendent, An Garda Siochana it was clear to those in attendance that financial crime continues to be a major issue for law enforcement across the globe.
The speakers were able to give background to the role played by law enforcement in their description of the Criminal Justice Act 2013. This 2013 Act brought the law into line with international standards.
From here they extrapolated on two of the key areas for banks, that is, determining who is an Ultimate Beneficial Owner (UBO) and risk assessments for banks.
ultimate beneficial ownership
On UBOs, Cullinan had a lot to say, including emphasising the legislation requires the definition of two diffuse points – ownership/control of an entity and on whose behalf a transaction/activity is carried out.
He also reiterated that banks cannot rely solely on UBO registries but must do their own digging until they are sufficiently satisfied on the information that they are presented with. Banks must also be wary that certain jurisdictions have different views on what constitutes a UBO, and these differences must be taken account of.
risk assessments
On this subject the panel stressed that the purpose was to inform the central bank on the measures taken to satisfy financial crime regulations, in order to fully flesh out a risk assessment it needs information from a variety of sources and must include categories of risk for different products and services, as well as customers.
Their key takeaways from the morning session were that banks should monitor legislative developments and once in receipt of updates in legislation, to implement changes to ensure they remain compliant.
politically exposed persons (PEPs)
PEPs were one of the key issues of the day, and it was great to hear so much detail come from the panellists on their approach. For me, it was important to hear that PEPs offer a level of risk, just as any customer does, and it is up to the bank to satisfy themselves that a PEP does not exceed this risk – otherwise there is no reason for them not to be onboarded once sufficient due diligence has been undertaken.
As the panel members stated themselves, the 4th AML Directive provides guidance to the UK that "not all PEPs are high risk PEPs".
During the presentations there was several references to the Wolfsberg Group's Guidance on PEPs. The Wolfsberg Group have produced an excellent document that gives further clarity on PEPs that gives some recommendations on PEP onboarding. One of their key considerations is that there is not enough clarity on what constitutes a PEP, as the definition can vary across jurisdictions, although they offer a definition:
"Those holding senior, prominent or important positions, with substantial authority over policy, operations or the use or allocation of government-owned resources, have much more influence and therefore normally pose greater risks for an FI and should accordingly be categorised as PEPs for the purposes of control and oversight frameworks."
They have called for this lack of definition to be remedied. Moreover, they have also called for Governments to actively compile a list of PEPs within their jurisdiction. Currently, it will be up to the financial institution to identify and run appropriate due diligence on a PEP, but a central, up to date, registry, could make the onboarding process significantly easier.
The Wolfsberg Group give this summary as advice on financial institutions working with PEPs:
PEP screening should occur in accordance with a financial institution's risk appetite applying a Risk Based Approach and take place at least:
as part of the onboarding process
at periodic customer review
when there is a trigger event which warrants a customer due diligence review
communication & collaboration
Working within several jurisdictions as many encompass customers do, having a strategy to manage PEPs in different jurisdictions can be challenging. It was therefore really interesting to hear that this was the focus for the second session of the day.
Featuring speakers from Airbnb Payments, Mizuho Bank, Paypal and Western Union, the big themes that came out of this session were that communication and collaboration is vital in ensuring compliance.
communication
The steps outlined by Rick Cerna of Mizuho Bank on utilising communication to ensure compliance are worthy of replication here. His nine step plan to ensuring good communication is as follows:
determine goals
understand the audience
align internal comms
align with internal training
assets available resources
verify tech capabilities
select content
deliver communication
ask feedback
5th anti-money laundering directive
As interested parties will be aware, the starting gun has been fired on discussion surrounding the 5th Anti-Money Laundering Directive (in actual fact, updates to AML4).
While discussions are at a very early stage within European bodies, initial talks have suggested there could be updates to legislation as diverse as central bank account registers, land registries, identifications of persons controlling life insurance contracts and investment related services.
For my part, I will be keeping a very close watching brief on how discussions progress so that I may be able to explore this further with customers and potential customers alike.
in conclusion
There is no doubt that there is much to take away from the day. As I discuss above, the four key points for me were around law enforcement, PEPs, Communication & Collaboration and the talks surrounding AML5.
Each of these has an important part to play in the fight against financial crime. Whether it is how communication and collaboration within banks can help to ensure they remain compliant on different levels, to how banks should understand the onboarding of a PEP and the implications that will be brought about as a result of the 5th Anti-Money Laundering Directive – I am already looking forward to next year!
about Simon Lemos
HEAD OF SALES FINANCIAL SERVICES
Simon is an accomplished business leader with over 15 years experience across data, software and consultancy. His broad experience includes detailed knowledge of risk and compliance, having worked with many financial institutions as well as corporates across the globe. Simon has operated in global markets for over 10 years, and his international experience includes living in Singapore and New York.
Simon is responsible for helping global organisations in their implementation of KYC and AML solutions. He has been involved in multiple remediation projects for banks and currently helps financial organisations with intelligent process automation.
Connect with Simon on LinkedIn.
about encompass
Founded in 2011 by entrepreneurs Roger Carson and Wayne Johnson, and operating from the UK, encompass is the creator of unique, innovative Know Your Customer (KYC) software for banking, finance, legal and accountancy that enable better, faster commercial decisions. The company is driven by the belief that the best decisions are made when people understand the full picture.
want to turn regulation compliance
in to a competitive advantage?
Contact us today to arrange your personalised consultation of encompass confirm.
Discover how our KYC automation software can help your business accelerate onboarding and give you peace of mind that you are regulator ready.