With the EU's Fourth Anti-Money Laundering Directive firmly in place and the Money Laundering & Terrorist Financing Regulations 2017 set to roll out in the UK, many are asking what this means for mortgage lenders in the UK and beyond.
Familiar territory for money launderers, tax evaders and fraud offenders is that of cash bought properties. This applies particularly to overseas buyers, as according to Transparency International 80% of properties within luxury development in London were purchased by overseas buyers. This method of money laundering via commercial or residential mortgages has not always been the most popular, one of the main reasons for this channel of laundering is terrorism financing.
Writing in Mortgage Finance Gazette, Graeme Port, Head of Product Management at encompass, discusses how money laundering and it's link to terrorism is a worldwide issue, and why lenders are at increased risk. In order to ensure legislation is adhered to they now need to enact more stringent forms of Customer Due Diligence, adopt a Risk Based Approach to customer onboarding while also utilising technologies such as RegTech to assist them in their fight against financial crime.
Read the full story in Mortgage Finance Gazette:
In the greater scheme of things money laundering is probably fairly low down most lenders list of concerns, especially as it is an infrequent occurrence. However, whilst frequency is low, the consequences of failure to comply to the regulations can be severe.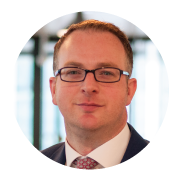 ABOUT GRAEME PORT | HEAD OF PRODUCT
Graeme Port is a product management professional with over 15 years' experience in the compliance and credit risk industries. He has particular expertise in the underlying data supporting the business critical decisions made by both the credit and compliance risk functions within financial services firms.
Before joining encompass in early 2016, Graeme's career spanned multiple roles at information giant Equifax, from sales and credit risk to product management and, latterly, representing Equifax at the Business Information Providers Association.
about encompass
Founded in 2011 by entrepreneurs Roger Carson and Wayne Johnson, and operating from the UK, encompass is the creator of unique, innovative Know Your Customer (KYC) software for banking, finance, legal and accountancy that enable better, faster commercial decisions. The company is driven by the belief that the best decisions are made when people understand the full picture.
want to turn regulation compliance
in to a competitive advantage?
Contact us today to arrange your personalised consultation of encompass. Discover how our KYC automation software can help your business accelerate onboarding and give you peace of mind that you are regulator ready.