AMLP: anti-money laundering and financial crime conference
The AMLP Forum has become one of our "go-to" events for the last few years as its focus matches our own so very well.
We found the gold sponsorship we took out was great for promoting encompass and this was backed up by the volume of individuals speaking to us at the break-out sessions and lunch.
While the event took place under Chatham House Rules and will thus preclude us from attributing thoughts to individual speakers, suffice it to say, the list of those taking to the stage was exactly as we would have hoped. Representatives from the banking authorities such as the FCA,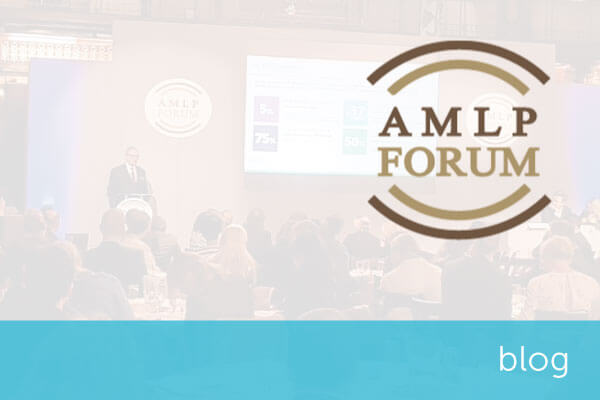 the National Crime Agency, European Banking Authority, Europol and the Financial Action Task Force attended alongside private firms such as KPMG, HSBC, Baker McKenzie, and Barclays amongst others.
The conference took place over two days at the magnificent Merchant Taylors' Hall in central London.
RegTech and the regulators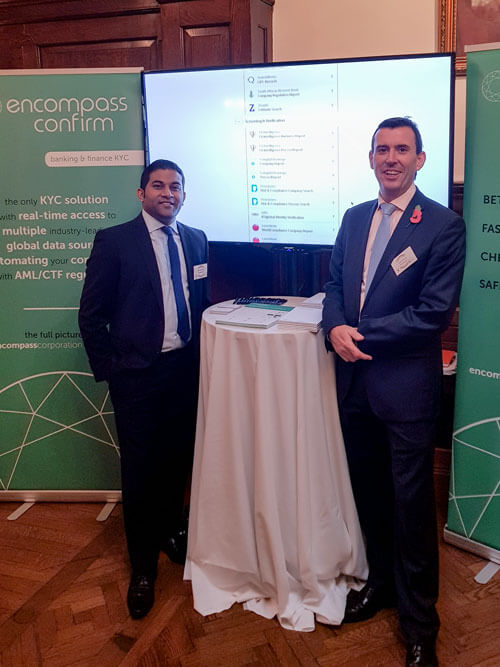 Of the many interesting and informative sessions throughout the conference, the one which resonated with us was exploring the relationship between RegTech innovation and the regulators, and how this relationship has been assisting new technologies.
Within the financial services industry regulators are looking at both FinTech and RegTech solutions to help with Anti-Money Laundering regulations. It was noted that financial services firms need to look into new Anti-Money Laundering technologies to improve internal processes and give more effective outcomes. This two pronged approach of regulator encouragement and firm exploration will be a catalyst for growth within the RegTech and FinTech communities.
One point of note is how the traditional combination of human compliance and legacy technologies is rarely good practice as demonstrated by the huge fines given to the larger tier 1 banks in the past several years. If new technologies can make compliance more effective then the industry should embrace them.
Regulators have stated they will help firms do this by providing direct support in regards to FinTech and RegTech. They are also keen to assist firms in setting up more regulatory sandboxes in order to test these new technologies. However, these sandboxes do not transfer risk from the firms to consumers and should be operating within the same rules as current regulatory procedures.
The speakers also introduced the idea of the evolution of blockchain as a prime example of a new technology that can be utilised within the AML sphere. It was highlighted that there is a proposal for blockchain standardisation across the EU which could be implemented earlier than thought.
the RegTech opportunity
Pleasingly, and unsurprisingly, there was a lot of discussion on how RegTech can benefit financial firms, as well as some open and honest criticism of what the challenges are for tech firms and how they can improve to meet the needs of their customers.
It was considered there are three main challenges for RegTech firms to overcome in order for them to be further embraced by industry. These are neatly encapsulated within the "3 P's";
privacy: tech firms must be able to demonstrate that data, either supplied by external sources or held internally is secure. This has of course become highly relevant within the context of the imminent arrival of new GDPR legislation.
profile: the question was asked as to whether there will still be a necessity for human interaction or will technology be able to accomplish the whole process.
perception: it was noted that in the past, tech firms had not had the necessary knowledge of their potential client's internal workings, while banks did not always understand the technology. This is a square that needs to be circled.
The opportunity afforded by RegTech is however enormous. It might be unsurprising that we would suggest this, but a quick look at the facts below suggest the scale of the problem that is facing the financial services community.
5% of Global GDP comes from laundered money, every year
there has been a 75% Increase in workload for compliance professionals
£57 billion is laundered through the UK every year
there has been a 50% increase in the volume of employees working in compliance
There is no question in our mind that RegTech software can help the sector. This was backed up this morning when we read just under 20% of the sector was using some sort of RegTech solution, a marked increase on last year, and a figure that will only continue to grow.
There are steps that banks can take to ensure that they select the right partner, however, should they choose to utilise the technology on offer. Of paramount importance is that the firm trusts their RegTech provider, in their abilities, the product and the people behind the technology. Somewhat ironically, a level of due diligence is also needed to check the solution works sufficiently and meets regulatory requirements. The buyer should also be confident of how the technology works, ie, does it use machine learning, AI or intelligent process automation?
Firms should also be confident of just how automated the RegTech solution can go – whether this be to automate the entire process, or to have human intervention at a certain point, and the relevant implications this will have on staffing. Solutions should also be scalable in order that remediation as well as onboarding can be completed, and the opportunity for thousands, rather than just tens or hundreds of client files to be checked simultaneously. Our colleagues have covered this in more detail in this post.
challenges for the financial sector
In regards to compliance regulation, this is undoubtedly a challenging time for the sector. It is however pleasing to see that they are addressing these challenges directly. As was pointed out during the second day of the conference the volume of new legislation being enacted is higher than at any other time in history. These include:
EU Funds Transfer Regulation
the 4th Money Laundering Directive
Criminal Finances Act 2017
opportunities and challenges posed by open banking
GDPR and Privacy Rules
The challenge here for the sector is that as well as ensuring that they are compliant with regulations, this has to be achieved against a backdrop of cutting costs. We know from experience that in the early days of financial regulation firms were taking on vast quantities of compliance professionals and data to try and ensure they remained compliant with legislation. The sector as a whole has now matured, and is seeking ways to ensure compliance while at the same time achieve cuts in spending.
As one of the speakers rightly noted, the way for banks to achieve this is through, planning; choosing technology that is right for them; having the right people in place; collaboration between departments and also externally with industry authorities and partner organisations, and; having the ability to integrate new with legacy technology.
wrap up
The most common two things we heard across the conference were for organisations to take a holistic approach, and that the largest challenge within compliance regulation is implementing a Risk Based Approach. To take a holistic approach, financial services firms need help to integrate their legacy systems with newer technologies so they work together and use the data held and collected more efficiently.
There has also been a lot of talk about big data, in that investing more in data is a waste of time, effort and money if the correct processes and technologies are not in place.
RegTech companies can help organisations work better with both their own data and the data purchased from traditional data providers. When data and process are managed correctly, implementing a Risk Based Approach will be far less of a challenge, as qualified resource will be released to manage risk, and the systems will provide market intelligence and audits to demonstrate appropriate controls are in place.
about encompass
Founded in 2011 by entrepreneurs Roger Carson and Wayne Johnson, and operating from the UK, encompass is the creator of unique, innovative Know Your Customer (KYC) software for banking, finance, legal and accountancy that enable better, faster commercial decisions. The company is driven by the belief that the best decisions are made when people understand the full picture.
want to turn regulation compliance
in to a competitive advantage?
Contact us today to arrange your personalised consultation of encompass confirm.
Discover how our KYC automation software can help your business accelerate onboarding and give you peace of mind that you are regulator ready.