Anderson Strathern selects encompass verify
Leading Scottish law firm, Anderson Strathern, has selected encompass verify to support and enhance their Know Your Customer (KYC) compliance processes.
With offices in Edinburgh, Glasgow, and East Lothian,
Anderson Strathern
is a full service law firm, covering requirements for business, personal and public sector.
The only provider of simultaneous, real-time access to multiple sources of global company and person data, encompass corporation is the creator of KYC automation for major global financial and professional service firms.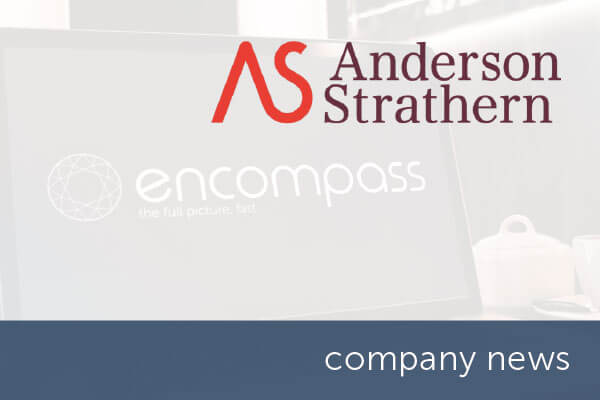 Stephen McDonagh, Head of Knowledge Management at Anderson Strathern, said:
"It has become clear to us with the implementation of MLR 17 that the need for us to have a comprehensive knowledge of our customers when we onboard them is paramount. To that end, it was important that we brought in encompass verify with access to global information providers in order that we can satisfy that need."
Wayne Johnson, CEO and Co-Founder of encompass, said:
"In the face of changing requirements, I salute Anderson Strathern for recognising that there is an immediate need to automate their client onboarding process, and satiate the requirements of MLR 17 with encompass verify. We're delighted to be working with such a well known Scottish brand and hope to contribute to their continued success."
about Anderson Strathern
Anderson Strathern is a leading Scottish full service law firm working in the private client, commercial and public sectors with 53 partners and over 240 employees across Edinburgh, Glasgow and East Lothian. Clients include the Buccleuch Estates, the Scottish Government, the Crown Estate, Clyde Gateway, City Legacy Scotland, Apex Hotels, INEOS, the Scottish Prison Service, and the Royal College of Nursing.
about encompass
Founded in 2011 by entrepreneurs Roger Carson and Wayne Johnson, and operating from the UK, encompass is the creator of unique, innovative Know Your Customer (KYC) software for banking, finance, legal and accountancy that enable better, faster commercial decisions. The company is driven by the belief that the best decisions are made when people understand the full picture.
want to turn regulation compliance
in to a competitive advantage?
Contact us today to arrange your personalised consultation of encompass confirm.
Discover how our KYC automation software can help your business accelerate onboarding and give you peace of mind that you are regulator ready.