anti-money laundering: guidance for the legal sector
The Law Society has published draft guidelines for law firms and legal professionals in response to the Money Laundering Regulations published in June this year.
The 153 page report covers in detail the steps that law firms should take to avoid sanctions, penalties and reputational damage. Here we have summarised the key points from the report.
risk based approach
Lawyers should adopt a risk based approach focusing on the areas of greatest risk. The benefits from this approach are more efficient use of resources, minimising compliance costs and add greater flexibility when responding to emerging risks.
The risk of not being compliant with regulations, can be sanctions and fines for the firm; the individual involved and reputational damage.
If lawyers know and understand the risks and where they are likely to face them, then there is much less chance of falling foul of the law. Money laundering and terrorist financing risks vary across the legal sector and lawyers should be wary of these. The risk based approach should be built upon the activity undertaken; existing ethical and professional rules; and your firm's susceptibility to money laundering.
systems, policies, controls and procedures
All compliance systems and policies should be recorded and documented. These policies should be proportionate and utilise a risk based approach. By documenting the controls in place, staff will be able to implement them effectively and demonstrate their ongoing use.
customer due diligence
Customer Due Diligence (CDD) is a requisite part of the new regulations, and must therefore take place on all new clients and existing clients. It involves identifying the client and verifying their identity by obtaining enough evidence which support the identity claimed. A risk based approach is to be applied whereby the extent and quality of information obtained is determined by the risk level in each matter.
beneficial ownership information
When firms onboard new clients who are body corporates, they are obliged to gather information that can help them identify and understand the constitution of the corporate client. The information includes, registered business name, number and address; details of board of directors and senior persons responsible for operations; the law to which the business is subject; legal owners; beneficial owners, and; articles of association.
money laundering offences
The 2002 Proceeds of Crime Act (POCA) created a UK wide single set of money laundering offences for proceeds from criminal activities. It also makes it an offence not to disclose information or suspicion of money laundering.
legal professional privilege
Legal professionals have a duty to keep all matters related to their client confidential. However, under POCA a firm must make available information to the NCA where they know of or suspect criminal conduct. When a Suspicious Activity Report (SAR) is made, sections of the regulations prohibit information being disclosed to the client.
terrorist property offences
The Terrorism Act 2000 criminalises not only the participation in terrorist activities but also the provision of monetary support for terrorist purposes. All legal professionals are subject to the terrorist property offences under the Act including fundraising, use or possess money, become involved in money arrangements for terrorist purposes
making a disclosure
The financial intelligence unit of the National Crime Agency handles all enquiries in relation to money laundering and terrorist financing. All regulated firms and individuals have a duty to make a disclosure of potential money laundering or terrorism financing to the NCA under POCA and Terrorism Act 2000. This should be done through a Suspicious Activity Report.
enforcement
The UK has one of the most robust regulatory regimes in the world. Regulators are committed to working with firms, and AML supervisors are on hand to offer assistance. For those that fail to adhere to the regulations however, the fines and sanctions can be very serious.
civil liability
Victims of crime can take civil action against wrongdoers and those who have assisted them. Those who believe they may have assisted in money laundering/terrorism financing should seek legal advice.
money laundering warning signs
The Proceeds of Crime Act 2002 requires legal professionals to report any and all suspicious activities. Law firms need to conduct ongoing monitoring of their business relationships to be aware of money laundering warning signs to ensure that suspicious activity is reported accordingly. Warning signs include secretive clients, unusual client instructions or client work such as unusually large transactions and more.
To read the full report, please visit The Law Society website:
Draft guidance taking account of the changes introduced by the Money Laundering Regulations 2017.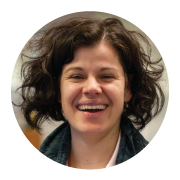 about Kalliopi Tsianou
PRODUCT MANAGER
Kalliopi came to encompass with a wealth of experience in product management gained in the Information Services and Professional Online Solutions industries. Her previous roles include LexisNexis, a leading global provider of technology solutions for the legal industry, and fast-growth start-ups disrupting the online services market with innovative legal and business solutions.
Connect with Kalliopi on LinkedIn.
about encompass
Founded in 2011 by entrepreneurs Roger Carson and Wayne Johnson, and operating from the UK, encompass is the creator of unique, innovative Know Your Customer (KYC) software for banking, finance, legal and accountancy that enable better, faster commercial decisions. The company is driven by the belief that the best decisions are made when people understand the full picture.
want to turn regulatory compliance
in to a competitive advantage?
Contact us today to arrange your personalised consultation of encompass. Discover how our KYC automation software can help your business accelerate onboarding and give you peace of mind that you are regulator ready.