bridge to Australia bolsters FinTech opportunities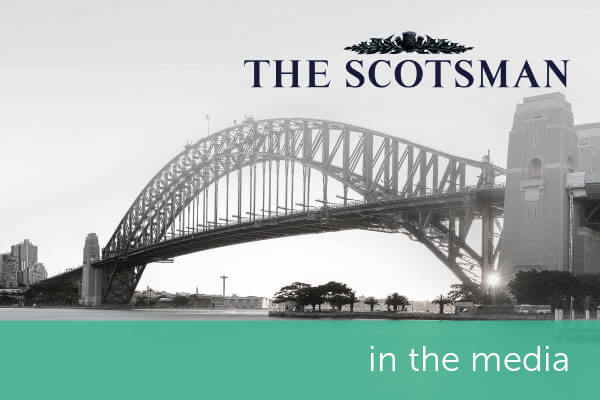 bridge to Australia bolsters FinTech opportunities
Following the UK and Australia signing a formal FinTech relationship last month, expectations are high for further collaboration between tech companies, that despite being separated by thousands of miles geographically, are very close culturally.
The Scotsman has been examining the close relationship between tech firms in the UK and Australia. They reached out to encompass CEO and co-founder Wayne Johnson, who founded encompass in 2012 in Sydney, Australia, before moving the company to Glasgow, Scotland.
The new agreement between the UK and Australia is expected to make collaboration between firms – and movement between geographies – easier as well as allowing both Governments to identify and support new trends in technology.
Johnson has been effusive of his praise of Glasgow and Scotland as a place to set up a business, citing its proximity to London, close cultural ties with Australia, and an educated and talented workforce.
He says: "Glasgow has proved to be excellent. There was a growing culture of technology and financial tech, a pool of existing talent with experience and also a large number coming from university."
"We had a technology that was doing extremely well in the legal market and gaining traction in the banking market," he says of encompass. "We wanted to take it somewhere to mature the technology."
Today encompass employs 32 in its Glasgow office, focussed on development, marketing and customer services; 27 in Sydney, and 16 in London looking after sales.
Read the full story on The Scotsman website:
Australia and Scotland's FinTech businesses are perfectly game, set and matched under new initiative Despite being thousands of miles apart, the UK and Australia's FinTech sectors are set to be closer than ever thanks to a budding blend of entrepreneurialism and a pioneering new initiative.
about encompass
Founded in 2011 by entrepreneurs Roger Carson and Wayne Johnson, and operating from the UK, encompass is the creator of unique, innovative Know Your Customer (KYC) software for banking, finance, legal and accountancy that enable better, faster commercial decisions. The company is driven by the belief that the best decisions are made when people understand the full picture.
want to turn regulatory compliance
in to a competitive advantage?
Contact us today to arrange your personalised consultation of encompass. Discover how our KYC automation software can help your business accelerate onboarding and give you peace of mind that you are regulator ready.
You also might be interested in