"We feel that Encompass software will help us to enhance internal efficiencies" says Simon Underwood, Head of Business Recovery at Menzies, the accountants and business advisors. "This will enable us to add real value to our clients, which is at the core of our strategy – brighter thinking".
Menzies, has chosen Encompass Uncover, a visual analytics product from Encompass Corporation. The product will be used by the firm's team of 15 Insolvency Practitioners and more than 45 professionals who focus on business insolvency, turnaround and forensic investigation.
"Our clients value that our teams focus closely on the facts of their businesses" says Simon Underwood. "By developing a clear understanding of their circumstances, we provide them with insights that add real value. Because Encompass Uncover makes our team more efficient as they investigate the facts of each matter, we are able to provide our clients with informed advice, quickly".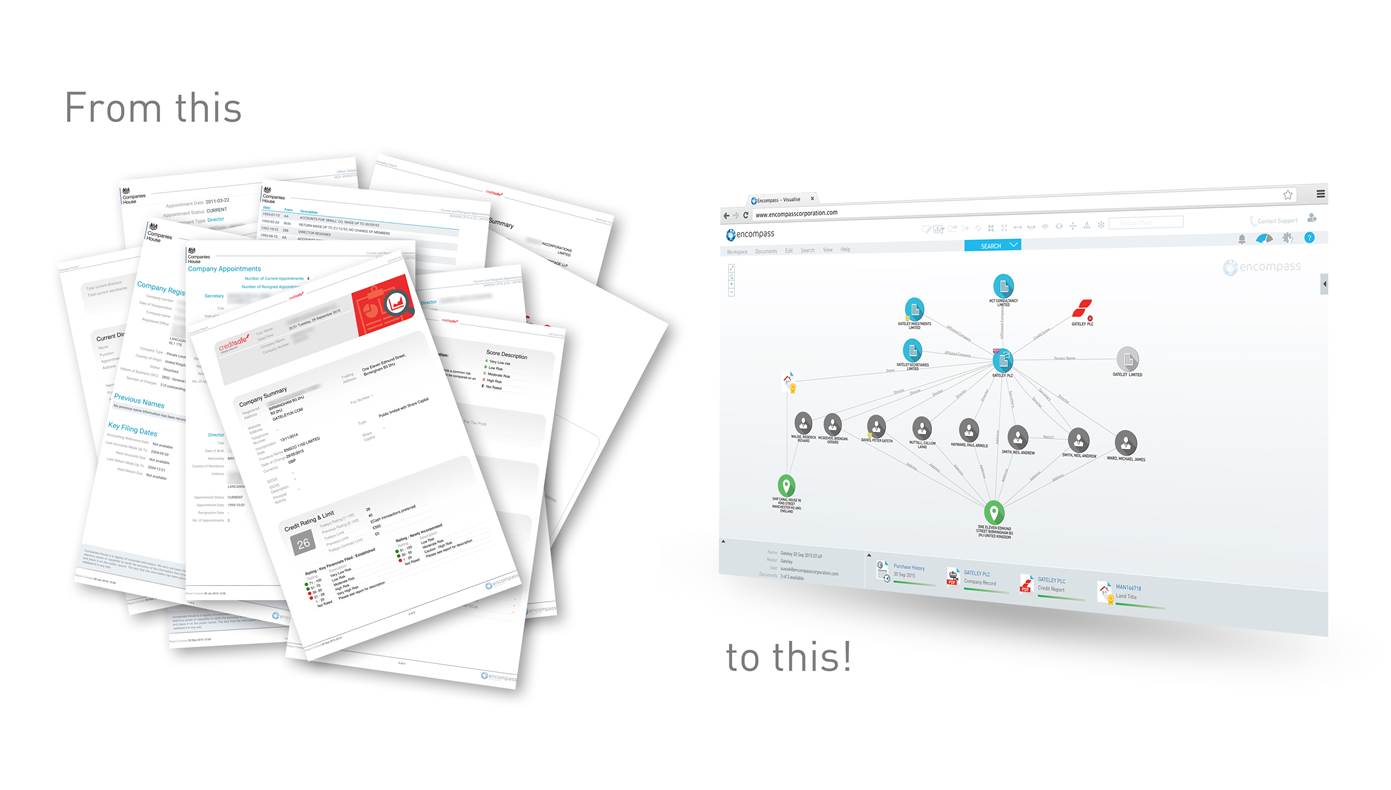 Victoria Millsop, Head of Sales at Encompass says "We are delighted to welcome Menzies to a growing group of professional services firms with the vision to embrace new technologies that offer opportunities to make fundamental business processes more efficient, and therefore more effective for their clients,".
"Having an interactive picture on the screen helps to detect connections that might otherwise be over-looked," says Stephen Caldecott, Investigator in Business Recovery at Menzies. "As you bring more information onto a chart, Encompass Uncover shows relationships emerging as part of a pattern. Sometimes the chart shows you the answer before you've formulated the question".
For more information about Encompass,  sign up for a webinar or arrange a one-to-one product demonstration.
-ends –
Notes to Editors
About Menzies
Menzies is a top 20 firm of accountants and business advisors operating out of a network of offices across Surrey, Hampshire and London, providing clients with easy access and local knowledge. Clients benefit from Menzies' diversity: the firm offers a full range of accounting services – including tax, corporate finance, audit and compliance, and business recovery – plus strategic consultancy, outsourced HR and FD support, franchising, and business valuations.
For more information, please visit http://www.menzies.co.uk
About Encompass Corporation
Founded in 2011 by entrepreneurs Roger Carson and Wayne Johnson, Encompass Corporation is the creator of a unique and innovative family of visual products that enable better, faster commercial decisions. The company is driven by the belief that the best decisions are made when people understand the full picture.
Encompass Uncover helps insolvency practices and corporate recovery firms dramatically cut time and costs when performing research to build a picture of a case. Firms using the product report that they uncover more about each new matter, they respond rapidly with confidence to new business opportunities, and they improve productivity to increase profits.
For more information, please visit www.staging.encompasscorporation.com
More from:
Vaughan Andrewartha
Email: press@encompasscorporation.com