Announcing the availability of Encompass Assess for ABL and invoice finance
Representing potential for future growth in our economy, small companies are disadvantaged as creditors. In 2015, SME manufacturers waited on average 67 days for invoices to be paid, whereas larger companies with a turnover over £500m waited an average of just 38 days. As a means to maintain cash flow, procuring loans against unpaid invoices represents a critical lifeline for smaller companies. In 2015, funding secured by UK and Irish businesses against invoices and other assets reached £20 billion. This compares with approximately £10 billion lent through overdraft facilities to UK SMEs.
One reason for the success of ABL (asset based lenders) is their speed to a decision – they are faster than traditional lenders at assessing an application and providing funds. While no loan will be made until an ABL firm completes a formal review of risk, building and growing a portfolio of deals is the responsibility of a team of Business Development professionals. The better a Business Development professional can document risks and opportunities presented by a company pursuing a loan, the easier it is for colleagues downstream in the firm's Risk department to authorise a deal.
Because so much of their business is made with newly-formed, small companies, ABL firms must find means of assessing risk from information found outside of these companies, and, ideally, a means of doing this quickly. Of particular interest to Business Development professionals is gaining an understanding of the company structure, and the identities of its directors and its shareholders.
Assessing the risk of lending money to a small company can be helped by finding answers to questions such as:
What is the company structure?
If the company is a subsidiary, which company is the ultimate parent?
Is the ultimate parent based in the UK, or overseas?
If overseas, who is the beneficial owner?
Does the company have subsidiaries?
Who are the bankers, secured creditors, and advisors associated with the company?
Who are the directors?
Do these individuals have histories of being involved with other companies that have successfully grown beyond their start-up phase?
Can I gain insight to directors' personal wealth, including their equity in property?
Is any director associated with adverse media, County Court Judgments for debt, late filings of accounts, or petitions?
Answers to such questions can be found by delving through registers managed by Companies House and Land Registry, in The Gazette – the UK's official public record, and in credit ratings, financial details and business facts provided by vendors of commercial information. However, the process of pulling all the pieces together to form a coherent picture, and one in a format that can be easily communicated to colleagues in Risk and other departments downstream of Business Development, can consume hours or even days of work.
In recognition of this need, today, we launch Encompass Assess for ABL and invoice finance.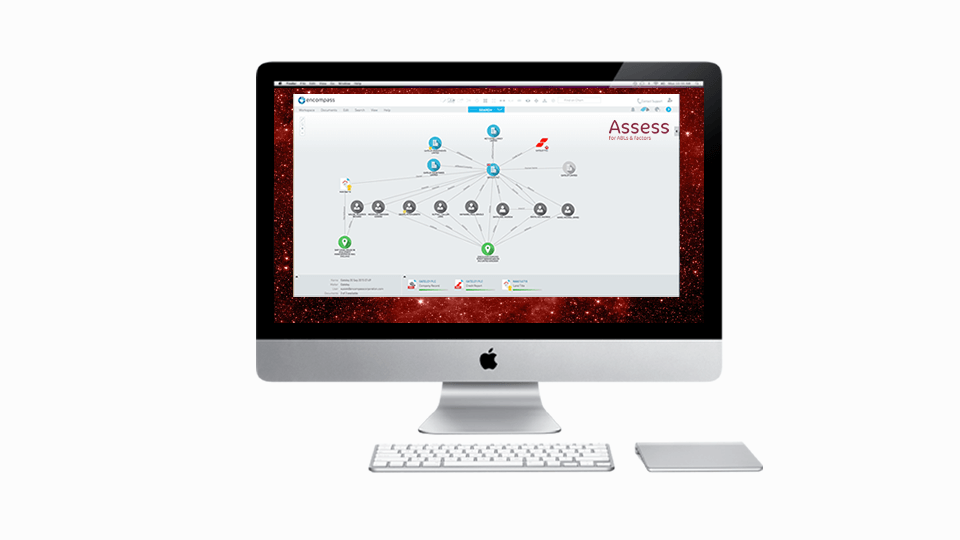 Encompass Assess automatically connects to information sources trusted by ABL to assess risk, automates the process of searching, and presents results in an interactive visual chart. Working with Encompass Assess allows Business Development professionals to answers the questions they must ask to assess risk. The product achieves this in minutes, and not hours, meaning ABL firms continue to differentiate their service based on their speed to decision.
The chart created in Business Development can follow the customer journey to other teams within the firm, such as Risk and Account Management, ensuring they share a common understanding. At any time and with a single click of a button, these teams can refresh the chart to ensure they are working with the latest records from Government registers and other sources, and understand any information that has changed since the previous risk assessment.
A team from Encompass lead by Mark Nuttall, our VP for UK & EMEA, is attending the ABFA Annual Conference 2016 in Dublin on Thursday 5th May. If you are at the conference, please seek out Mark and ask him how Encompass Assess can support your firm's Business Development team.
resources
about encompass
Founded in 2011 by entrepreneurs Roger Carson and Wayne Johnson, and operating from the UK, encompass is the creator of unique, innovative Know Your Customer (KYC) software for banking, finance, legal and accountancy that enable better, faster commercial decisions. The company is driven by the belief that the best decisions are made when people understand the full picture.
want to turn regulatory compliance
in to a competitive advantage?
Contact us today to arrange your personalised consultation of encompass. Discover how our KYC automation software can help your business accelerate onboarding and give you peace of mind that you are regulator ready.