Encompass Corporation has won the Innovation and Technology Award at the 2016 Turnaround, Restructuring and Insolvency (TRI) Awards in a joint nomination with innovative challenger law firm, gunnercooke.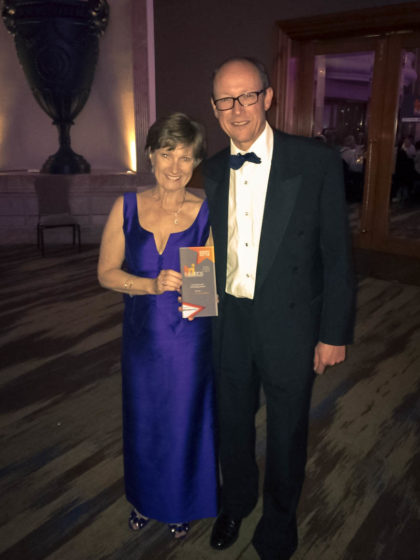 Encompass provides sophisticated analytics software for financial and professional service firms. gunnercooke started using Encompass Verify in January 2016 as a solution to streamline search processes.  This pairing of innovative thinking and search visualisation has led to gunnercooke seeing a significant increase in productivity throughout the firm.
Wayne Johnson, CEO from Encompass said: "We're thrilled to be a 2016 TRI Award winner alongside such well-established firms such as PwC and LexisNexis. In a year when there were 162 finalists it's a real honour that our hard work, expertise and belief in our solution has been recognised. This award comes at an exciting time for our company as we look to expand in both the UK, and globally."
Chris Jones, Restructuring Partner at  gunnercooke said: "For us, Encompass Verify has reduced three hours of my time into 30 seconds, while producing a result with significant improvement in accuracy.  This plays directly to gunnercooke's model, solely senior lawyers who strive to work as efficiently as possible, so the fact that Encompass' technology transforms any lawyer into a power researcher is fantastic."
You can read the full case study here.
Encompass recently announced £3.6m of investment funding from the Scottish Investment Bank and Sydney based Adcock Private Equity.
About the TRI Awards
Formerly known as the Insolvency & Rescue (I&R) Awards, the renamed and re-calibrated TRI Awards scheme has been refreshed with several new categories to reflect the critical work now prevalent across the profession – particularly in turnaround and restructuring.
The award has grown year on year, and the judging panel received more entries than ever before for this year's awards. In total there are 162 finalists from over 100 individual companies across all the categories after the shortlisting process.
There are many categories included, recognising senior professionals leading the way in creditor engagement, as well as lawyers, insolvency teams, invoice finance firms, training providers and technology suppliers.
about encompass
Founded in 2011 by entrepreneurs Roger Carson and Wayne Johnson, and operating from the UK, encompass is the creator of unique, innovative Know Your Customer (KYC) software for banking, finance, legal and accountancy that enable better, faster commercial decisions. The company is driven by the belief that the best decisions are made when people understand the full picture.
want to turn regulatory compliance
in to a competitive advantage?
Contact us today to arrange your personalised consultation of encompass. Discover how our KYC automation software can help your business accelerate onboarding and give you peace of mind that you are regulator ready.