Scottish companies dominate UK top 10 for Intellectual Property, with Encompass Corporation ranked ninth just two years after launching in Glasgow.
The UK's leading Intellectual Property League table has ranked six Scottish based companies in the top 10 for the UK, including Encompass Corporation which launched in Glasgow in 2015.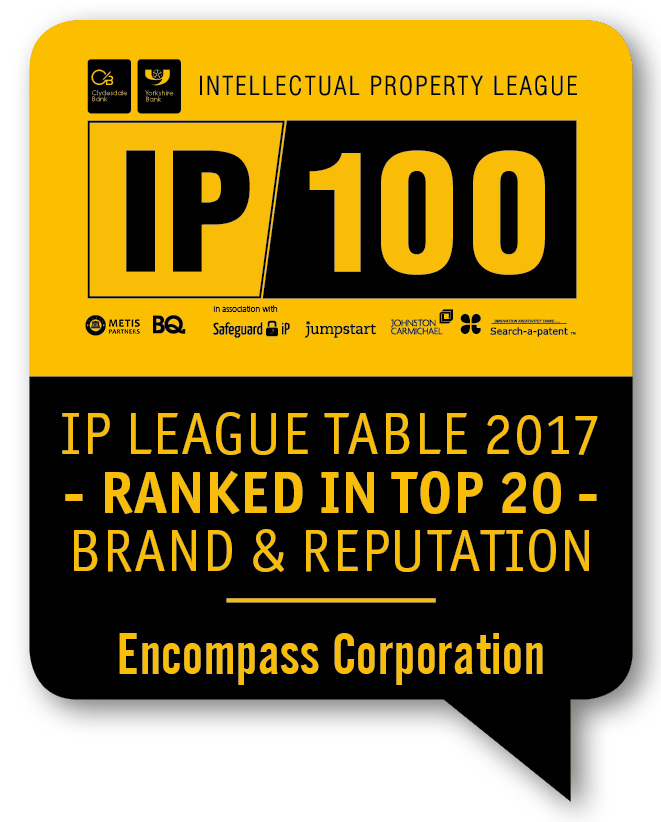 The Intellectual Property League Table, which is sponsored by the Clydesdale and Yorkshire Bank, measures five Intellectual Property asset classes: Brand & Reputation, Patents, Critical Databases, Software and Trade Secrets. The assessment identifies companies that are using their Intellectual Property to create effective barriers to entry and the competitive advantages needed for growth and international expansion.
The other five Scottish companies listed in the top 10 are Glasgow based M Squared, Edinburgh Adrok PGM, Toshiba Medical Visualization Solutions and Aberdeen based Corex UK.
The top performing entrants are published in the IP100, an annual ranking of companies that are considered to be the most effective at commercialising their IP assets.
Wayne Johnson, CEO and Co-Founder of Encompass Corporation said; "The IP100 recognises UK private sector companies which have significantly invested in their Intellectual Property in terms of creation, management policies, research and development and commercialisation.
"Investing in your intellectual property is a cornerstone for any successful business, especially one that wants to operate across numerous markets and geographies. As such we are pleased to be recognised in the UK top 10, and delighted that Scottish companies dominate the list."
about encompass
Founded in 2011 by entrepreneurs Roger Carson and Wayne Johnson, and operating from the UK, encompass is the creator of unique, innovative Know Your Customer (KYC) software for banking, finance, legal and accountancy that enable better, faster commercial decisions. The company is driven by the belief that the best decisions are made when people understand the full picture.
want to turn regulatory compliance
in to a competitive advantage?
Contact us today to arrange your personalised consultation of encompass. Discover how our KYC automation software can help your business accelerate onboarding and give you peace of mind that you are regulator ready.