Uncover, Assess, Verify!
It's been a big year for Encompass Corporation and as our company grows we meet customers whose goals in automating their search processes differ from those working in restructuring and insolvency – our original market here in the UK. Between sectors we've observed other differences, for example each profession relies on a unique combination of information sources to satisfy their search requirements and uses different business processes to interpret and manage data. To best serve multiple markets, we have chosen to create a range of products, each unique to the needs of a profession, and to differentiate between our company name and how we name our products.
The product formerly known as Encompass is now "Encompass Uncover for Restructuring & Insolvency" . There is no action required for existing customers as you will be automatically subscribed to the solution for your profession and the change has no impact pricing.
Additionally, Encompass has now launched "Encompass Verify for law" and "Encompass Assess for ABLs & factors". To help describe these products and communicate the value of each, we have created a new website at www.encompasscorporation.com/ – and I encourage you to visit the site to learn more about the new product range. We welcome your feedback, so if you'd like to make a comment or suggestion please do email me at alexf@encompasscorporation.com
Now on to news specific to Encompass Uncover for Restructuring & Insolvency. This month we announce that our partner Turnkey is using our application programming interface (API) to integrate Encompass Uncover and their Insolvency Practitioners System (IPS).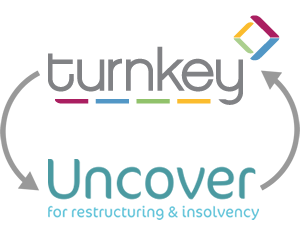 At the 26th IPS User Group Conference at Warwick University on 20th October, Darren White, Operations Director at Turnkey opened his presentation with 15 minutes on how IPS and Encompass Uncover will work together to make insolvency professionals more productive. Users of IPS will be able to launch Encompass Uncover directly from their case management system, and once they have completed their search will be able to populate a new or existing case with information from their workspace. Turnkey plan to include this functionality at no additional charge with their next software release planned for mid-November.
To learn more about using this integration and its benefits we invite you to a webinar jointly presented by Turnkey and Encompass at 11.15am on Wednesday 18th November; Click here to register.