This month we release two capabilities that ensure information created in Encompass can flow into other applications to support our customers' business processes.
No man is an island,
Entire of itself,
Every man is a piece of the continent,
A part of the main.
Meditation XVII, John Donne, 1624
Encompass Application Programming Interface
Just as no man is an island, in an insolvency practice no system is "entire of itself". Business processes demand that information flows across activities and through different systems. Without these points of integration, people need to get involved, finding details already recorded on one system, and copying or re-entering this information in another system. Such duplications are clearly unproductive and a waste of time. Perhaps of greater concern, is the risk of introducing errors or missing details that can lead to unintended or damaging consequences.
This month Encompass releases an application programming interface or API. This first version of the API provides the capability for other applications to request information from an Encompass workspace. The API will then provide the information so that it can be integrated with the requesting applications. Encompass is currently working with other vendors and will have further news on how the API and these relationships will create value for our customers.
Export Notes
Notes provide a valued way for customers to record information in a workspace. With this month's release, all notes can be exported as a CSV file importable to other systems. CSV, standing for Comma Separated Values, is a well-established format for data. CSV is supported by many of the tools in use in most firms, which means Notes can be exported to spreadsheets like Excel®, Google Docs and OpenOffice.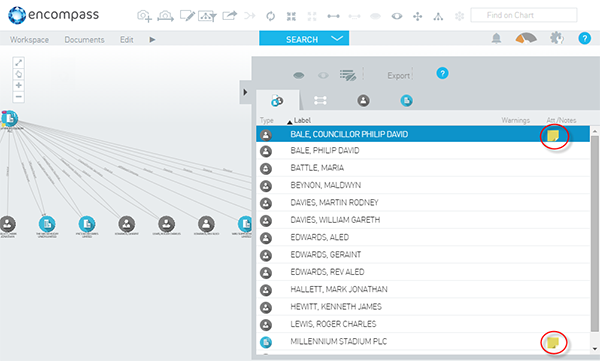 Summary
October marks an important point for Encompass's development (as a citizen) becoming an integral part of our customers' business systems' architecture. Encompass is commonly used early in a case to investigate companies, directors, properties and other assets. Our API and Export Notes ensures that information created during search activities can flow to other systems to enrich our customers' business processes.
Encompass October Product Enhancement
James Pearson