This month Encompass delivers more PPSR time savings.  We've also introduced collaboration and enhanced our Land Title offering with visualisation and follow on orders.
For optimal viewing experience, view the player in fullscreen
PPSR registrations delivered to you in an excel workbook.
Now Encompass does your work for you by compiling all the critical information from within PPSR documents, into one simple excel spreadsheet.  No need to read the documents and re-type the information! Now you can save hours and avoid errors, because the information is already tabulated and waiting for you in the format you need.  So look for the 'PPSR Registrations' excel workbook in the Encompass Documents Panel next time you're reviewing PPSR search results.

Land Titles join the visualisation and follow on title orders join Encompass.  

Previously Land Titles have simply displayed as a document icon on the Encompass chart.  Now we've put them in the picture by extracting ownership and mortgagor information from the title and displaying that data in the form of people or company icons on the chart.  And stay tuned, because from mid September the picture will get even richer when we release follow on title order documents.  Soon Encompass will check what follow on title orders are available and give you the option to buy any that you need at the same time that you buy the Land Title. It will then display them on the chart and in the documents panel when the Land Title is visualised.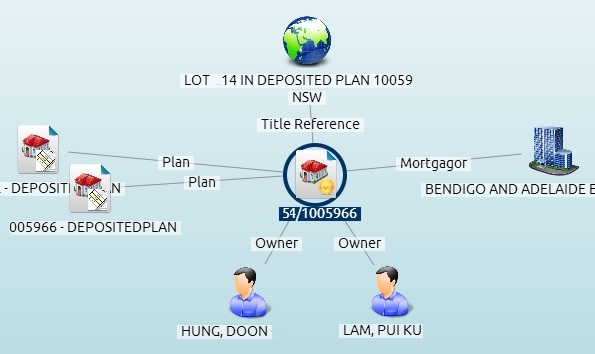 Save time and reduce errors with Encompass Collaboration.
With Encompass, sharing the results of your search is already as easy as copying and pasting a hyperlink. When you email the link to a colleague they can access all of the reports you've consolidated, interact with the visual chart and sort data in the list panel. Now, with the new 'Encompass Collaboration' feature, they will also be able to search and add information to the picture themselves!  It's a bit like Google Docs for commercial information – you can keep all the information in one place and collaborate easily with colleagues. So, if you're organisation is subscribed to the Premier or Enterprise plan, simply choose the "collaborate" radio button next time you share a workspace and your colleagues will be able to review and search whenever they need to.
 The Encompass interface now even more user friendly.
Usability Pat' has joined the Encompass development team and introduced a few little enhancements we think you will like, because they make Encompass even easier to use:
– Double click anywhere on the chart to centre the picture
– Instead of hover, you now click to open and click to close the various panels in the Encompass workspace, including the 'Start Search' panel. Hooray!
For optimal viewing experience, view the player in fullscreen