Fortis Insolvency selects encompass verify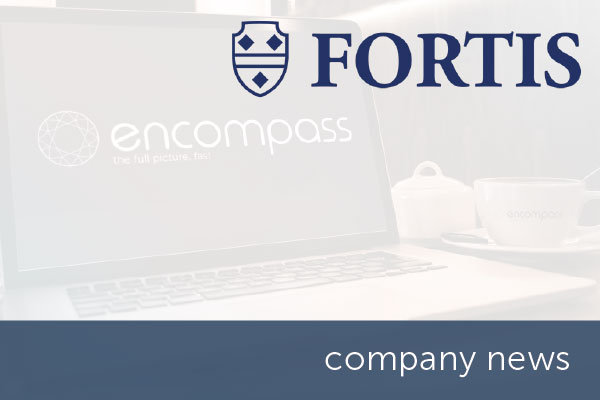 Business and personal insolvency experts, Fortis Insolvency, has selected encompass verify to support and enhance their Know Your Customer (KYC) compliance processes.
Manchester based Fortis Insolvency provide advice and support to business and individuals across the north-west who may be facing financial and operational issues.
The only provider of simultaneous, real-time access to multiple sources of global company and person data, encompass is the creator of KYC automation for major global financial and professional service firms.
Chris Parry, Managing Director at Fortis Insolvency said
"Evolving regulations, not least the new requirements of MLR 2017, are a challenge for many companies, a challenge that encompass verify enables us to meet head on. Automation makes the process considerably more efficient by enabling our compliance team to work at the high end of implementing the regulations, as well as freeing them up to investigate more complex cases."
Wayne Johnson, CEO and Co-Founder, encompass said
"Changing regulations now means that companies must look for efficiency if they are to be both fully compliant and remain competitive. By using robotic search to unearth all a KYC policy demands, processes are more efficient, resulting in faster and safer regulatory compliance."
about Fortis Insolvency
Fortis Insolvency is a North West firm of Licensed Insolvency Practitioners based in Manchester that provides industry leading, nationwide advice and services to businesses and individuals that are facing financial and operational problems.
With a combined 75 years' experience in the Insolvency and financial services sector, Fortis are ideally placed to deliver practical straightforward thinking and concise professional advice.
Fortis Insolvency covers all aspects of personal and corporate insolvency with vast experience in assisting in turnaround management, restructuring, insolvency and recovery, refinancing, funding as well as a range of practical interim management solutions.
about encompass
Founded in 2011 by entrepreneurs Roger Carson and Wayne Johnson, and operating from the UK, encompass is the creator of unique, innovative KYC software for banking, finance, legal and accountancy that enable better, faster commercial decisions. The company is driven by the belief that the best decisions are made when people understand the full picture.
want to turn regulation compliance
in to a competitive advantage?
Contact us today to arrange your personalised consultation of encompass verify.
Discover how our KYC automation software can help your business accelerate onboarding and give you peace of mind that you are regulator ready.
You also might be interested in