On 20 February 2017 the European Supervisory Authorities (ESAs) issued a joint 'opinion on the risks of money laundering (ML) and terrorist financing (TF) affecting the Union's financial sector'.
Their opinion fell short of a glowing assessment.
The ESAs consider that the Union's financial sector is exposed to ML/TF risks arising from ineffective AML/CFT systems and controls, which leave firms vulnerable to abuse by financial criminals. Several competent authorities responsible for the AML/CFT supervision of firms have pointed to problems with firms' overall levels of compliance, and no sector was perceived as having 'good' or 'very good' compliance levels by all competent authorities.
The full document is available below:
The joint opinion identifies a number of risks to the sector including: ineffective AML/CFT systems and controls, which leave firms vulnerable to abuse by financial criminals.
At Encompass, we believe the root cause of this ineffectiveness to be manually operated systems and controls. It is common for firms to record policies in market manuals or similar documents. Whilst these provide valuable guidance to KYC analysts, they lack controls to ensure consistent application of policy. This gap between how a firm states it should do KYC and how it actually does KYC creates risk of exposure to ML/TF.
Manual processes create a cascade of additional problems including:
operator errors generate costly rework
slow processing delays customer on-boarding
process cannot scale, hindering the firm's growth and increasing costs
information collected in KYC is not easily accessed by other business units which otherwise could mine it to derive valuable insights
The way forward is for firms to automate KYC. We welcome the opportunity to show you how.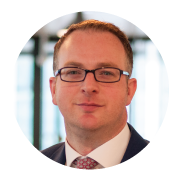 ABOUT GRAEME PORT | SENIOR DATA MANAGER
Graeme Port is a product management professional with over 15 years' experience in the compliance and credit risk industries. He has particular expertise in the underlying data supporting the business critical decisions made by both the credit and compliance risk functions within financial services firms.
Before joining Encompass in early 2016, Graeme's career spanned multiple roles at information giant Equifax, from sales and credit risk to product management and, latterly, representing Equifax at the Business Information Providers Association.
ABOUT ENCOMPASS
Founded in 2011 by entrepreneurs Roger Carson and Wayne Johnson, and operating from the UK, Encompass Corporation is the creator of unique, innovative KYC software for banking, finance, legal and accountancy that enable better, faster commercial decisions. The company is driven by the belief that the best decisions are made when people understand the full picture.
Want to turn regulation compliance
in to a competitive advantage?
Contact us today to arrange your personalised demonstration of Encompass. Discover how our KYC automation software can help your business accelerate onboarding and give you peace of mind that you are regulator ready.