We're excited to bring you two key features that will give you even more control, flexibility and transparency when managing commercial information in Encompass!
Smart Chart Filtering – Select the Reports that Tell the Story
You told us that the chart became less useful when there were too many entities involved. From June Premier and Enterprise subscribers can now decide what is visualised in your workspace by toggling individual source reports.

Take control of your chart by only visualising the reports that convey the relevant information. You can now have the freedom to add information to your workspace report-by-report and the control to turn off reports to reduce clutter.
As with all product enhancements, this feature was borne from feedback from our users requesting more flexibility and control over the workspace chart. Encompass already saves you time searching for reports, now we save you more time manipulating the chart to convey only the relevant information.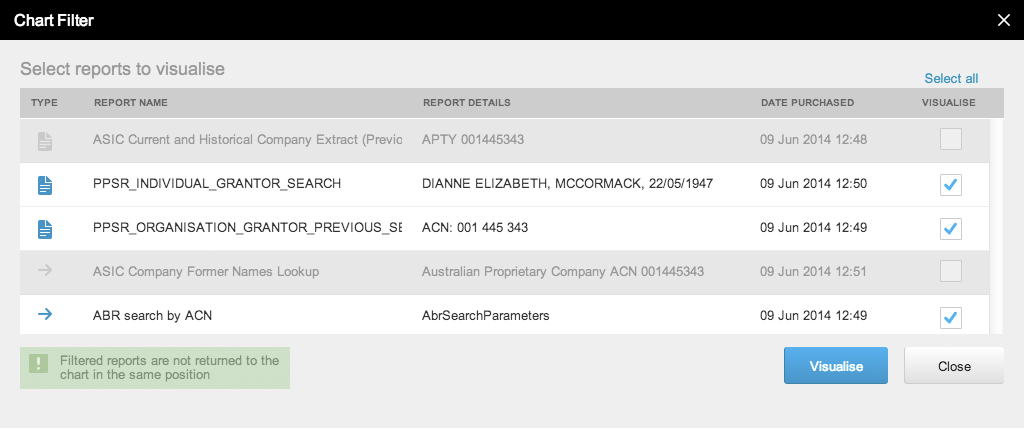 In complex matters, searching for multiple documents from sources like ASIC and the PPS Register can sometimes result in a busy visualisation. Encompass Chart Filter gives you the flexibility to enable only the documents that are relevant without cluttering the chart. Working in a team? Simply select Chart Filter, select the reports that tell the story and share only the pertinent information.
Advanced Properties – For when you need to verify the details
At the core of Encompass is an unrivaled ability to match and merge complex sets of verified information. Professional services, banking, finance professionals and government departments depend on Encompass to assist in making crucial decisions so we've made it easy to delve deeper into how the chart was constructed.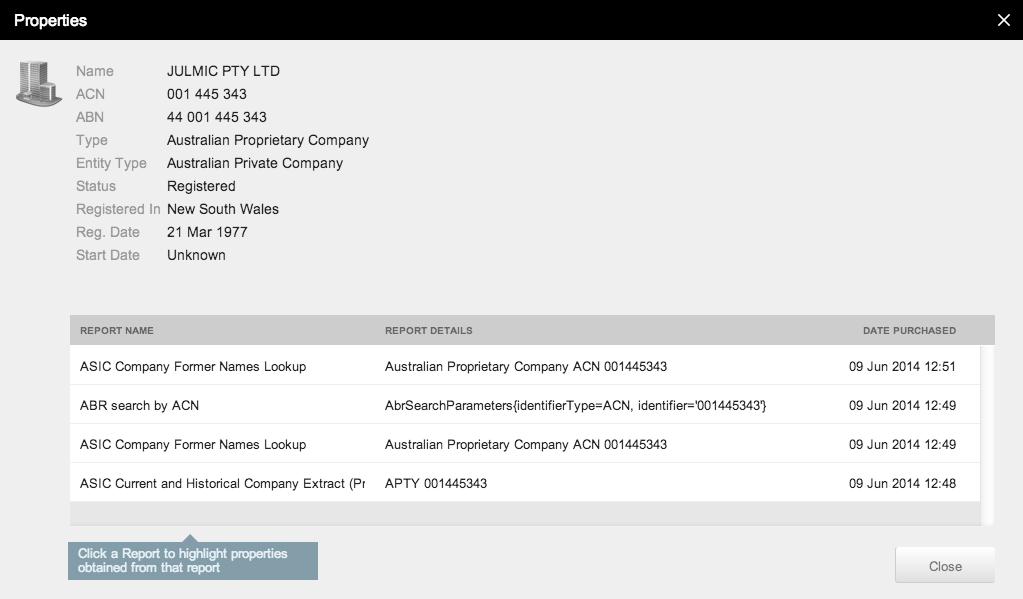 The new Advanced Properties interface (accessed by simply right-clicking on a person, property, company or asset in the workspace and choosing 'properties') and available to Enterprise subscribers, allows you to see precisely what information came from which report – even with merged entities.
Encompass takes the integrity of our data very seriously and now we're giving you the tools to examine the building blocks of your workspace so you can work with peace of mind that you have verified information down to the last detail.
See all of June's enhancements in action!
Ready to learn more?
Lawyers, accountants, corporate advisors and lenders must review and cross reference official documents from a range of sources, to verify facts at the beginning of every matter.