key learns from the 2019 Global RegTech Summit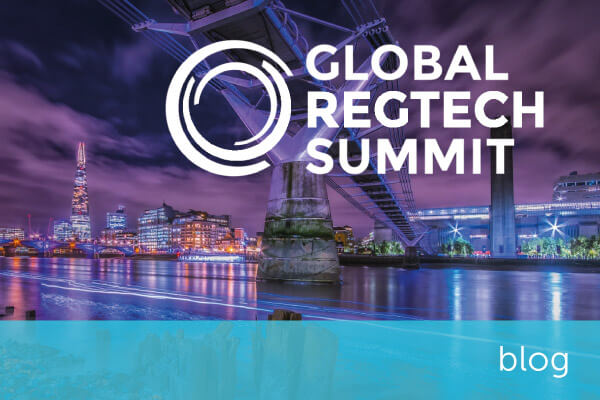 key learns from the 2019 Global RegTech Summit
The Global RegTech Summit is the largest RegTech event of this year. Held in London earlier this month, it brought together 1,000 professionals, from solution providers to financial institutions, to reflect on the current landscape.
With areas including Know Your Customer (KYC), Anti-Money Laundering (AML), financial crime and conduct compliance represented, there was lots for delegates to explore.
High on the agenda was the challenges of regulation, as well as the impact of innovation on compliance, as a range of speakers shared their expertise.
Mark Pflitsch, our Business Development Director, shares key learnings, as well as his thoughts on encompass' place in the space as we know it.
A shift in priorities
Since 2014, there has been around $11 billion of investment in RegTech firms and we learned that while in the past the absolute priority was just accessing relevant data, this focus is shifting to accuracy.
This is down to the growing need to mitigate risks posed by flawed decision-making based on erroneous or incomplete information.
There was also discussion around the need for multiple providers and how it is often the case that only part of an overall solution is offered by one RegTech business.
Do RegTechs know enough about financial institutions?
There was a clear message coming from financial institutions to RegTechs around perceived shortcomings.
Overall, there was a feeling that many RegTechs do not have enough knowledge of how financial institutions are structured and work. This also stretched to their understanding of the global regulatory picture, from front to back office, and the impact that regulation has on the financial institutions they deal with.
With this being said, though, a vital aspect of encompass and something that helps us to achieve is the fact that we have hired banking professionals who truly understand how financial institutions work, as well as can break down needs, allowing us to offer real solutions that can prove invaluable.
The data challenge
An especially informative part of the day was when the main hurdles facing businesses for whom data is a focus were laid out.
This is a topic that is, of course, particularly relevant to encompass, as data and how we deal with it is at the heart of what we do.
Some of the issues that were examined include:
Inconsistent onboarding processes

Disjointed regional approach to Client Lifecycle Management (CLM)

Often a disproportionate amount of time is spent on data gathering

We are still seeing a lot of wasted spending
Reflections
Overall, this was a very useful event to attend, especially when it came to getting an understanding of the biggest challenges that firms are coming up against at the moment and gaining an insight into how encompass sits within the different areas highlighted.
There were many recurring themes brought up, such as the thought that there is no single, consistent interpretation of issues in the industry, making it impossible to arrive at a consensus when dealing with major developments.
There was a call for better collaboration, communication and cooperation between peers and with regulators, while some also talked of inconsistent messaging from different regulators, noting an overwhelming amount of regulatory obligations.
Looking to the future, it is clear that there is a feeling that there is work to be done by financial institutions, particularly, to better how they work with and embrace RegTechs.
When it comes to specific ideas for improvement, points made included:
Financial institutions need to assess rules and regulations and solutions based on their business globally but implement regionally/by business line

Financial institutions need to work with local interpretations and nuances to ensure that AML/KYC is appropriate for each jurisdiction

The ideal would be having one provider (eg. for KYC/AML, financial crime) but the reality is that several are required at present.

Enhanced risk management procedures are needed – not just in view of compliance but also in terms of systems, security, data integrity and partners
It is clearer now than ever before that technology is central to resolving a number of problems businesses encounter. This, especially when relating what we discussed to automation and our product, was only confirmed by what I took in at this year's summit.
What we offer at encompass could be of great benefit and carries a relevance to many of the themes that emerged after listening to the concerns of those in attendance.
We provide a centralized, point of access to multiple data providers, allowing a business to integrate all of their required data sources into CLM, CRM or legacy platforms, regardless of the jurisdictions they operate in. Through flexible and configurable automation, we can ensure a consistent, regional approach to KYC across global jurisdictions – something singled out as a vital requirement that many felt was currently not being taken into consideration.
encompass reduces the risk of flawed decision-making by ensuring a business has the full picture of a customer. Our platform unwraps and visualises complex corporate structures, identifies beneficial ownership and control and highlights areas that need further investigation (PEPs and adverse media, for example). . With decision-making and its importance being a crucial topic of the day, this could prove instrumental.
Efficiency was mentioned repeatedly – both in terms of time and money – and with encompass' automated data gathering and KYC discovery offering time savings of up to 80% overall spend is dramatically reduced. This resonated with me as it is something I hear from my contacts daily and is a key benefit they recognise in the encompass platform.
about encompass
Founded in 2012 by entrepreneurs Roger Carson and Wayne Johnson, and operating from the UK, encompass is the creator of unique, innovative Know Your Customer (KYC) software for banking, finance, legal and accountancy that enable better, faster commercial decisions. The company is driven by the belief that the best decisions are made when people understand the full picture.
want to turn regulatory compliance
in to a competitive advantage?
Contact us today to arrange your personalised consultation of encompass. Discover how our KYC automation software can help your business accelerate onboarding and give you peace of mind that you are regulator ready.
You also might be interested in