Key learns from the ACAMS AML & Financial Crime Conference Europe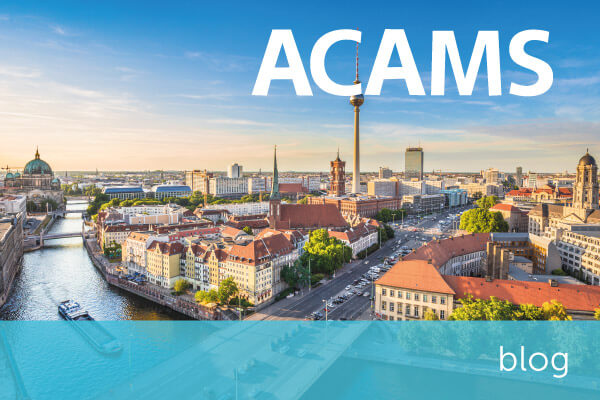 Key learns from the ACAMS AML & Financial Crime Conference Europe
According to the Association of Certified Anti-Money Laundering (AML) Specialists (ACAMS), in 2019, collaboration is the most powerful weapon in fighting financial crime.
This was the theme of the association's 15th annual European conference, as members and experts came together in Berlin to explore ways to facilitate and promote collaboration, including managing conflicting legal, regulatory and corporate structures, creating paths to information sharing, and building effective partnerships.
Among the event delegates, representing encompass was Mark Pflitsch, Business Development Director, and Ruby Schembri, Solutions Consultant.
Here, they share their reflections after a busy programme, which included speeches from the likes of Alexandra Jour-Schroeder, the European Commission's Acting Deputy Director-General, and Kieran Beer, who is the Director of Editorial Content at ACAMS.
collaboration is key
As the focus of the conference suggests, the main theme running from the keynote address to the closing remarks was the importance of collaboration in today's space. Banks cannot be siloed in their approach.  They need to work together with other banks and technology companies to ensure a more streamlined approach to onboarding.
Collaboration must be jointly undertaken by practitioners (financial firms) regulators, technology providers and law enforcement firms in order to be successful.
On the subject of onboarding, we learned that AML Transaction Monitoring will be fundamental in detecting and predicting the movement of 'dirty money' going forward, and is starting to be seen as hand in hand with onboarding and screening.
innovation is encouraged
It was particularly important, and relevant to us, to hear that technological innovations are welcomed and encouraged by the European Union (EU). There was also a focus on how it is vital that firms  invest in new technological solutions not to save money but rather to free up resources, which, of course, ties in with key benefits of platforms like encompass.
Despite the positive message regarding innovation, it was noted that vendors are still guilty of creating false hype and mis-informing by overestimating what they can still offer.
Markus Schulz, Global Head Financial Crimes Compliance Controls at Standard Chartered, emphasized that this way of working generally backfires so there is a need to be realistic to avoid running into problems.
directives and sanctions
There was also a lot of talk about the latest Directives, such as the Fifth Money Laundering Directive (5MLD), as well as 6MLD, which will follow soon after.
With the implementation date of 5MLD, particularly, fast approaching, these are high on the agenda for many in the sector, as they anticipate what the impact of the changes will be for them, as well as what they need to do to make sure they stay in line with rules in place.
It was particularly timely, then, that we were told during the conference that Directives are not there to punish but instead aim to ensure that innovative ideas are not exploited by criminals.
When it comes to sanctions, contributors to this section of the event included John Cusack, Co-Chair of the Wolfsberg Group, who spoke of the challenges. The belief was that the United Nations (UN) should be taking the lead in terms of making key decisions, but, at present, it is felt that the US Office of Foreign Assets Control (OFAC) has become the driver.
Currently, it is thought that the UK generally follows the US. However, an important point made here was that, since Brexit, Europe has become more open to going it alone.
Delegates also shared that there is some confusion around the interpretation of primary and secondary sanctions, however, the message coming from the top is clear: Companies cannot simply say that they were unaware of an issue and expect to avoid the consequences. Ignorance is not an excuse that will be tolerated.
There is no denying that, with the possibility of sanctions and reputational dangers that exist in the landscape as we know it, it is now increasingly important to fully understand your client's business, beneficial owners, areas of activity, type of activity and to also get an idea of your client's clients. Failure to do this means running the risk of penalties, with the knock-on effect of this being more pertinent than ever before for businesses.
GDPR 'inhibits information'
John Cusack also touched on the topic of the General Data Protection Regulation (GDPR). He shared that GDPR, as well as privacy laws are still presenting issues for firms. According to John, these hinder efficient sharing of information, as well as collaboration.
What is the answer to this problem? That still remains, on the whole, unclear, but they key take-away point here was that engagement with lawmakers and enforcement agencies is something that is to be encouraged.
thoughts on regtech
Many of the panels and roundtables we took part in asked some questions of attendees, which they anonymously answered. There were four of particular interest to us, as they focused on technology, which provided some interesting insights.
There were around 150 delegates surveyed, and they answered in the following ways;
Q: Does your company use fintech/regtech for AML?
50% YES / 50% NO
Q: Which of the following are key considerations for you?
Breaking information sharing silos in the company 42%
Partnering with fintechs to increase effectiveness 25%
Opening partnerships with regulators 33%
Q: What will be your key focus?
Cross-industry collaboration 29%
Third parties / vendors collaboration 44%
Cross-company clients holistic on-boarding 15%
Government registers 12%
Q: Technology investment at my financial institution:
Is large – we are making a big bet on AI 24%
Draws a moderate amount of our resources 40%
We are not spending enough on tech 36%
Various conclusions can be drawn from these responses. However, what can be inferred is that firms agree on the integral role that fintechs play in the search for solutions, efficiencies and compliance.
Not all firms have so far either aligned strategies or resources to the use of fintechs but the industry acknowledges that, as of today, not enough spend is being directed towards their use yet. The results echo the trend that encompass is seeing, with new clients being won and with encompass being invited by firms to propose its solution to help create consistencies and efficiencies in the client onboarding and remediation process.
You also might be interested in