It was a delight to be involved in the recent launch of the Citi Tech for Integrity Challenge, a global innovation programme to enhance and scale pilot-ready tech solutions.
As a RegTech start up, we are acutely aware of the pressures faced by professional and financial services firms as they seek to counter corruption, money laundering and terrorism through the promotion of integrity and use of technology. It is through technology that we can now do such things as open current accounts remotely, do our banking on our phones and so much more.
Clearly, however, as technology has progressed, so has the opportunities for those seeking ways to corrupt wealth. We must ensure that as well as benefitting consumers, technology also ensures that our data and finances are secure.
Money laundering and terrorist funding is a grave threat to the global economy. As my colleagues have discussed elsewhere, a 2009 report from the UN reported that a massive 3.6% of the planet's GDP was a result of criminal activity, and $1.6 trillion was laundered money. The impetus for technology to therefore play a part in the eradication of money laundering and terrorist financing could hardly be clearer.
The Tech for Integrity Challenge will look to identify and assist start up technology providers to create solutions that will enhance and promote integrity and help fight corruption. With applications for the programme having just closed, finalists will present their applications before a jury of senior Citi personnel and stakeholders on a regional basis, with the winners being announced in late summer.
As for my own part at the Edinburgh launch event – which took place less than 24 hours after the London launch – we were in esteemed company. Giving a keynote presentation on the day was the Minister for Business, Innovation and Energy, at the Scottish Government, Paul Wheelhouse. The panelists represented a range of local and international tech innovators working in Scotland, including David Ferguson from Nucleus Financial, now a HM Treasury FinTech envoy.
It was clear from the comments from Paul Wheelhouse that Tech for Integrity is aligned to many initiatives already underway locally in Scotland, such as the rise of Datalab and the recently announced FinTech hub set up by Entrepreneurial Spark at the RBS Headquarters in Gogarburn, just outside Edinburgh.   
Two panel discussions took place. The first emphasised the development of FinTech in Scotland, questioning whether it had been "a revolution, or evolution"? On this, there was much discussion on the importance of transparency; how technology was underpinned by regulation; and the role of collaboration.
The second discussion focused on the role of "open innovation and collaboration". We discussed the factors promoting and hindering collaboration between FinTech and incumbents. Culture was a recurring theme because effecting change in organisations depends on aligning the vision of leaders regarding embracing technology change, innovation and collaboration, to the day to day priorities and core business activities of financial service firms.  We also covered the role of RegTech as an enabler of technology responses to regulatory pressures in a B2B setting (as opposed to FinTech which tends to be commonly associated with disruptive B2C solutions)  
If the entries for the Tech for Integrity competition can answer just a fraction of the points made at the seminar, then they will be well situated to promote integrity and help to end corruption and criminality.
I am excited to see what the results of the programme are.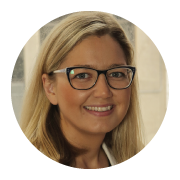 ABOUT ALEX FORD
Alex has worked with encompass since 2012 and re-located to Glasgow in 2015 for the company's launch in the UK and establishment of the UK operation. As Vice President of Operations, Alex oversees Customer Success, Product, Business Systems and Security from the head office in Glasgow. Previously, Alex was Marketing and Innovation Manager for the Institute of Executive Coaching and Leadership in Sydney and Hong Kong, and prior to that marketed software company The Distillery. She holds degrees in Japanese and Marketing, as well as Digital Marketing qualifications from ADMA and Product Marketing from UC Berkeley.
about encompass
Founded in 2011 by entrepreneurs Roger Carson and Wayne Johnson, and operating from the UK, encompass is the creator of unique, innovative Know Your Customer (KYC) software for banking, finance, legal and accountancy that enable better, faster commercial decisions. The company is driven by the belief that the best decisions are made when people understand the full picture.
want to turn regulatory compliance
in to a competitive advantage?
Contact us today to arrange your personalised consultation of encompass. Discover how our KYC automation software can help your business accelerate onboarding and give you peace of mind that you are regulator ready.