A lot of businesses are moving towards cloud based solutions this year, mainly because the advantages of cloud adoption far outweigh its pitfalls.  A recent IDC study found that the current level of could adoption by businesses in Australia this year has increased to 86 per cent from 71 per cent in 2012.  If this sounds like a big increase to you then hold on to your seats because IDC also predicts spending on public IT cloud services within Asia Pacific (excluding Japan) to increase fivefold to $19.5 billion by 2016.
However, this is not at all surprising considering the increase in the geographical diversity and mobility of today's workforce that needs 'access all hours' to information and also needs to collaborate and communicate across borders.  This transformation in the workforce and work practices supports IDC's predictions that software-as-a-service (SaaS) will 'remain the largest public IT cloud services category, capturing 59.7 per cent of revenues in 2017'.
Now let me mention another astounding statistic to you about smartphone adoption.  IDC further reports that worldwide smartphone adoption has exploded with a growth of 38.8 per cent YoY recorded for Q3 2013.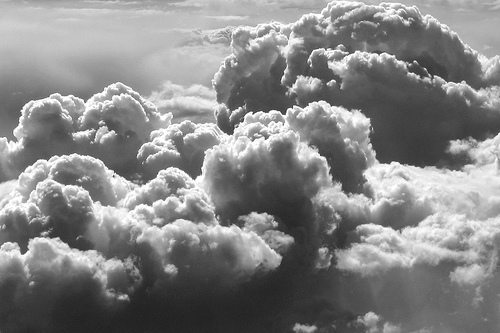 Image credit: Kevin Dooley via Creative Commons
 The above facts and figures paint a pretty black and white picture for organisations making it clear that businesses need to adapt to the changing needs of the workforce (not to mention partners and customers) both locally and globally.  However, cloud transition is not always as simple as it sounds and there are some things you can do to ensure your staff experience all the benefits cloud technologies have to offer.
Adopting cloud technology, is much like any other change you would need to manage in your business; it can significantly enhance the productivity of your employees, as long as you have a clear plan in place that is easy to understand by employees at all levels and support mechanisms for ongoing reinforcement.  Better trained and better informed employees are usually more engaged and valuable than those who have to find their own way through a maze of policies.
If you are unsure of where to start, remember that many technology and service providers also offer onboarding support or success plans which assist their customers to get off to a running start with cloud based solutions.  Another practice that is also commonly recommended is implementing a clear and concise Acceptable Use Policy (AUP) to guide staff through the process of your organisation's cloud adoption.  AUP's can play a critical role in mitigating misuse of cloud, teach employees cloud use etiquette and make employees more productive by providing them with easy access to information.
Here are five simple steps to implementing AUP's  for cloud based technologies in your organisation:
1. Write the guidelines in simple and easy to understand language, using infographics and charts where possible, as people tend to understand visual images better than text.
2. Get your staff involved in developing these AUP's so they not only feel valued, but also take ownership and responsibility for their implementation.
3. Ensure the AUPs are regularly updated to reflect the changing nature of the workforce and introduction of new apps and technologies.
4. Incorporate the AUPs in your onboarding and training.
5. Avoid implementing blanket AUP's across multinational organisations without taking into account cultural nuances and common practices.  .
If your business is transitioning to the cloud, it is highly recommended that you keep the importance of professionally managing your high value data in mind.  While you want to ensure you are providing all possible tools for your employees to be productive and to have access to sensitive commercial information from any location at any time, ultimately this information is like digital gold that can build your competitive advantage and needs to be protected.  Therefore, it is wise to ensure you are training and guiding your staff to use the new technology professionally and effectively, while also having the right measures and policies in place.
Ready to learn more?
Lawyers, accountants, corporate advisors and lenders must review and cross reference official documents from a range of sources, to verify facts at the beginning of every matter.