AUGMENTING

THE PROCESS USED TO 

ESTABLISH FACTS RECORDED 

ABOUT

 

LEGAL ENTITIES
Mike Kearney, Product Specialist
Lawyers and their firms are not under served by advice on how their profession is changing in the face of information being transmitted and stored in digital formats, and by developments in computer technology.
Executive Summary
As viewed by their clients, the best legal firms share common traits. These firms are communicative and responsive when providing high quality legal advice and value-added services, which are good value, and billed transparently.
The best firms are managed and operated as modern businesses, meaning all work is organised within a set of coordinated business processes. Advantages of designing an entire organisation as processes include: the wants and needs of clients become the focus of all work; each process can be assessed for its efficiency and effectiveness, and these measures adopted as a baseline for continuous improvement; as advances in technology become commercially available, each process can be assessed for opportunities to innovate and so improve service and value to clients.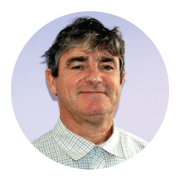 Mike Kearney is a Product Marketing Specialist at Encompass Corporation.Prior to joining Encompass, Mike was for more than three years, senior director, big data for IBM, responsible for explaining and promoting the IBM big data platform to prospects and clients. Previous to that he was director of strategic product marketing for data warehousing company.