kyckr
Automate search across official registers and validated sources to get a single, verified view of the parties you and your clients do business with.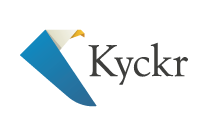 Kyckr
Expand your case investigations overseas with Kyckr
Kyckr, formerly Global Business Register, provides access to official, live data on over 55 million companies across the European Union and the United States, in 20 different languages. In essence, Kyckr provides a gateway to documents and data from the official government sources.
Kyckr does not store any information that it provides: everything comes from the national companies register "live".
Through encompass you can run a Kyckr Company profile in 17 Countries across UK and Europe. Other reports from Kyckr will follow shortly.
View all information sources available with encompass products
discover what encompass can do for you
Ready to learn how encompass can accelerate your client onboarding and compliance checks?
Fill out the form to request your personalised consultation on how encompass can help your business. Alternatively you can contact our team directly on 0333 772 0002.