Encompass 2020 highlights: Reflecting on another year of growth and success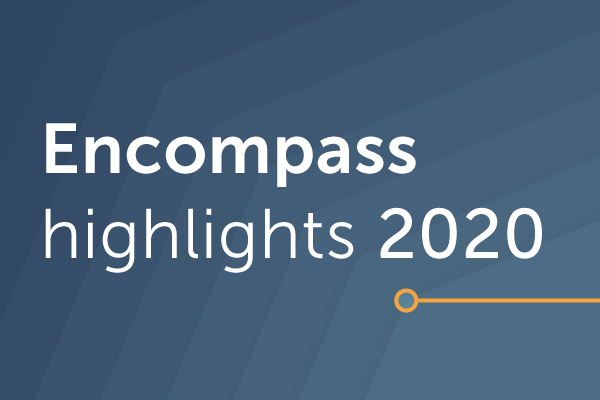 Encompass 2020 highlights: Reflecting on another year of growth and success
2020 has not been the year any of us expected. Like businesses worldwide, we have had challenges to contend with and new routines to adjust to as a result of the COVID-19 pandemic.
Despite this, it has been a time of significant growth, as we have welcomed a number of people to our team, continued to secure new business, and launched new partnerships.
Here are just a few of our highlights from a busy year…
Growth focus
Thanks to tireless work of our dedicated global teams, we've recorded significant client wins, including within top level financial institutions and legal firms.
We've also expanded our fantastic network of partnerships, joining forces with the likes of Accuity and EQ, and there are more on the way. In another milestone, we were delighted to be selected to partner with Invidem, the Nordic KYC Utility, with the goal of making the management of KYC data more efficient and effective in the region.
Commenting, Wayne Johnson, our CEO and co-founder, said:
We look forward to tackling the global issue of financial crime together with Invidem and streamlining the process of onboarding customers within the Nordic region to ensure a better end customer experience. This is a significant step forward.
Our growth has not just been external – headcount has also significantly increased this year, as we hired a number of experienced industry professionals who will help to steer us further towards our long-term goals.
Recognition
We have worked hard to continually enhance awareness of the role and benefits of RegTech and automation in fighting financial crime.
A crucial part of this has been our regular original research, which has seen us survey UK business owners and directors on a number issues connected to their experiences with financial institutions, from the impact of the COVID-19 pandemic to attitudes towards digital transformation.
And we were pleased to be shortlisted for awards at ceremonies including the British Bank Awards and the Data Management Insight Awards.
First Minister's visit
At the beginning of the year, we were delighted to host Scotland's First Minister, Nicola Sturgeon, at our Glasgow HQ, as she announced us as recipients of a £1.97m research and development (R&D) grant from Scottish Enterprise.
Ms Sturgeon said at the time:
Encompass is one of a number of international companies that have chosen to locate and steadily expand their operation making Scotland an attractive place to grow its business.

From its Glasgow base, the company has access to markets, a supportive business environment and has been able to identify local talent from Scottish professionals in the engineering and software development sector.

Backed by almost £2 million of R&D investment from Scottish Enterprise, Encompass will be able to develop artificial intelligence software tools that will assist companies in the financial sector reduce operational risks associated with meeting compliance and regulatory standards.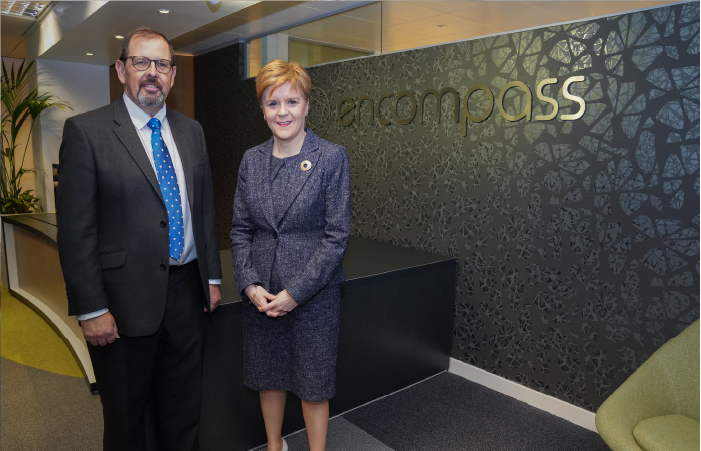 Meet our Advisory Council
The good news kept on coming as, soon after that, we unveiled our first ever Advisory Council, including former Chief Risk Officer (CRO) at Macquarie Group, Stephen Allen, founder of IHS Markit, Kevin Gould, and former CEO of Axolotl Corp, Raymond W. Scott.
Our Advisory Council provides high-level insight into current and future trends that will affect our customers, and provide an invaluable source of practical knowledge that we will utilize for the good of product development and overall experience.
The first year of the RegTech 20:20 podcast
The RegTech 20:20 podcast was launched at the end of 2019, with the aim of demystifying RegTech in the UK, Australia, and beyond, by focusing on key industry issues and answering the questions that listeners have about the place and importance of solutions today.
Hosted by Alex Ford, Encompass' VP, Product & Marketing, the monthly podcast has delved into many aspects of RegTech and compliance, with episodes dedicated to topics including how RegTech has earned its seat at the table, how banks can succeed when it comes to implementing digital transformation projects, and the role of technology in fighting financial crime.
A range of experts – from regulators including the Financial Conduct Authority (FCA), vendors, such as ComplyAdvantage, and the likes of Innovate Finance and The RegTech Association in Australia have offered their knowledge and experience, discussing how they see RegTech adoption and compliance obligations evolving, particularly with financial institutions in mind. This has resulted in an interesting, engaging and varied set of episodes, which put the spotlight on our industry and where it is heading, and we look forward to continuing the discussion in the year ahead.
Summing up another significant 12 months, Wayne Johnson, said:
There can be no denying that this has been a challenging year, in some respects, as we have reacted to global circumstances but, as ever, our teams have shown commitment and dedication to ensure we have continued to make great strides on our growth journey. As a result, we have seen some real progress across all areas of the business.

As we go into 2021, we know that it will be crucial, as we look to step things up even more and not only continue to deliver for our existing customers, but also expand and hit new heights.
You also might be interested in