Adopting a new technology solution for your firm is a big decision. It is rarely, if ever, cheap, and often you are spending money on modernising traditional practices that have worked perfectly adequately for years.
"What's the ROI?"
A fair and welcome question from our discerning legal customer base.  Return on Investment – and Return on Information – are critical for any law firm. It's a calculation that has presented a challenge to managing partners and IT departments for some time.
How can you leverage information to not only reduce cost, but actually gain a competitive advantage?
As someone who has worked in technology sector for many years helping global firms asses their technology solutions, I know there is much more than just ROI involved in a purchase decision. However, it's still a data point worth considering and, to put it simply, the ROI for Encompass is compelling.
On average, and assuming its used for just four matters per month, Encompass could generate a monthly return on investment of more than 400%.
Where can it help?
Customer studies have found Encompass reduces time incurred on commercial search and review activities by as much as 70%. In other words, research that would have previously taken a full day, can now be completed before lunch, enabling you to make faster decisions and get on with more cases.
I use 'search and review activities' as the general description in the process outlined further below, but it covers a range of tasks that occur across different areas of a law firm, things such as:
Banking and Finance Law – Conducting security reviews for a banking client.
M & A Law – Reviewing corporate structures to verify and present information on group structures, parent companies and ultimate beneficial owners in a potential acquisition.
Corporate Law – Understanding current and resigned Directors of a company and their historical conduct as part of due diligence in order to give corporate advice on a proposed partnership.
Insolvency Law – Investigating a target to understand if litigation is a worthwhile course of action in a legal insolvency matter.
Property Law – Find and value real property for a developer who is planning to sell part of their business.
 Consider the process on a typical case of moderate complexity.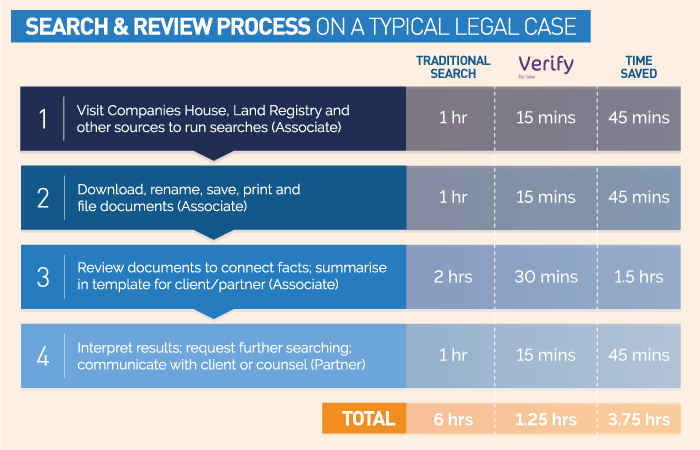 The math…
Building on the above  and using the conservative assumption that Associate times is charged at £100 per hour and Partner time charged at £400 per hour, the ROI can be calculated as follows:
Total value gained per case in Partner and Associate time – £600
Assume 4 cases per month – £2,400
Monthly cost for Encompass Verify Entry Pack – £450
Monthly Return on Investment [(total gain – total cost)/total cost] – 433%
In addition to the significant time saving, Encompass Verify
impacts the bottom line because you will:
Impress clients and referees with fast response times and professional presentation
Identify assets that may have otherwise been missed or discovered too late
Target new business with better information for a competitive advantage
Reduce or recover hard costs such as reports and document storage
Improve operational efficiency firms, reducing unbilled WIP by invoicing promptly upon concluding a piece of work
Diversify and improve services leading to revenue growth
So, how do you justify technology investments in your firm?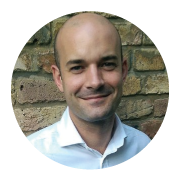 ABOUT MIKE NEWMAN
Mike was the Senior Business Development Consultant at Encompass, and has over 15 years experience in business development and client management spanning telecoms, recruitment and, more recently, data and business intelligence markets. He spent the last four and half years working for a leading corporate financial health and predictive analytics company, and has experience dealing with a wide range of IP clients.
ABOUT ENCOMPASS
Founded in 2011 by entrepreneurs Roger Carson and Wayne Johnson, and operating from the UK, Encompass Corporation is the creator of unique, innovative KYC software for banking, finance, legal and accountancy that enable better, faster commercial decisions. The company is driven by the belief that the best decisions are made when people understand the full picture.
Want to turn regulation compliance
in to a competitive advantage?
Contact us today to arrange your personalised demonstration of Encompass. Discover how our KYC automation software can help your business accelerate onboarding and give you peace of mind that you are regulator ready.