Empowering diversity and inclusion in FinTech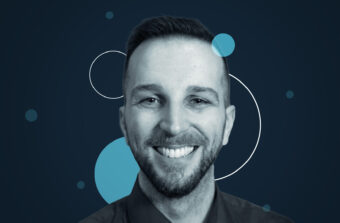 Innovate Finance's Pride in FinTech Powerlist is an inspiring compilation of individuals. It recognizes those who are making a significant impact in the world of financial technology, while championing diversity and inclusion. Ashton Montgomery-Norris, a key member of Encompass' customer success team, has been awarded a well-deserved place on this prestigious list. In this blog post, we shed light on Ashton's journey, and Encompass' commitment to empowering diversity and inclusion in FinTech. Furthermore, the positive change they are both making within the industry.
Ashton's inclusion on the Pride in FinTech Powerlist
Innovate Finance recently launched its first ever Pride in FinTech Powerlist. As part of its ongoing inclusion programme, it champions diversity in the UK FinTech industry.
The Powerlist celebrates the positive impact members of the LGBTQIA+ community have had in driving a more inclusive financial services sector for all. Furthermore, Innovate Finance's initiative is working to create a safe space for the LGBTQIA+ community and inspire future generations.
Being encouraged to apply by both Innovate Finance and Encompass colleagues, Ashton views his inclusion on the Powerlist as an excellent platform to showcase his own and Encompass's commitment to fostering a diverse and inclusive environment.
The evolution of Encompass' EDI group
Encompass's equality, diversity, and inclusion (EDI) group was formed two years ago by the People Team. As an employee-led group it provides an opportunity for staff to contribute, feel represented, and have a say in shaping our culture. Ashton and other employees initially created five working groups for Encompass. Including LGBTQ+; Women in Tech; Multi-culture; Mental Health & Neurodiversity; and Disability Awareness.
Over time, EDI activity at Encompass has evolved. As a result, it now has an events calendar; annual company EDI report; and bi-monthly committee meetings. Updates and priorities are put forward from all five working groups to ensure a continuation of activities. 81% of our staff in our most recent company survey said that EDI is important to them. With 92% saying we are doing well, this underscores the importance of EDI within Encompass, not just as a necessity but as a genuine desire.
Key achievements for the Encompass LGBTQIA+ working group
With Ashton's involvement the LGBTQIA+ working group has achieved some key highlights since its formation: –
LGBTQ+ history month: The EDI group organized an outside speaker who ran an engaging session on queer representation in video games. The event was designed by Ashton to resonate with a wide audience within Encompass. The session was well attended and facilitated meaningful discussion on the topic.
Pride month panel: Encompass collaborated with Scottish Financial Enterprise, Abdrn and Capco to host a discussion during Pride month. The event focused on building an inclusive workplace and allowed for meaningful conversations about EDI in progressive and practical ways.
Family leave policy: Families come in all shapes and sizes. Ashton attended a specialist conference on behalf of Encompass to inform our review and subsequent update of our family leave policy. With the most recent and best practices in this area, the revised policy includes additional, specific support of IVF and surrogacy. Additionally, shared parental leave following the birth or adoption of a child.
Ashton's activities and contributions to the LGBTQIA+ working group reflect Encompass' ongoing commitment to fostering a diverse and inclusive workplace. Significantly enabled by continuous review and improvement of everyday policies and processes that benefit all employees.
The importance of an inclusive environment
Everyone is encouraged to join EDI working groups within the business. Each working group encourages members to share their experiences, whether related to gender, mental health, or other  group topics. It is vital for employees to feel comfortable being themselves at work and not worry about being misunderstood or unheard.
Top-down approach to inclusion
There is open and consistent support by leaders of the business. They are committed to providing employees with a voice and creating as many opportunities as possible. This is both anonymously and openly, to share opinions and experiences. This top-down approach to diversity and inclusion sets the tone at Encompass. Ensuring that every employee feels acknowledged and represented, which in turn helps Encompass reap the benefits of a more engaged and productive workforce.
Ashton's plans
Following his inclusion on the Powerlist, Ashton has expressed his desire to continue speaking at EDI events and championing different voices. He believes it is essential to ensure that diverse perspectives are represented in conversations surrounding EDI and FinTech. With the opportunity of mentoring, both within and outside of Encompass, Ashton sees the potential for more opportunities to give back and contribute to the broader FinTech community.
Ashton's recognition on Innovate Finance's Pride in FinTech Powerlist throws a spotlight on the positive impact individuals can have when they champion EDI. As the FinTech industry continues to evolve, Encompass will be maintaining its support of champions like Ashton, and enabling them to lead the way towards a more inclusive and productive workplace for everyone.
You also might be interested in