KYC process automation expedites customer onboarding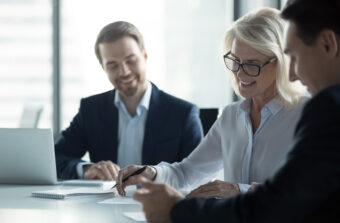 The combination of macroeconomic volatility and geopolitical disruption in 2022 ended more than a decade of relative stability for the banking industry.
Despite 2022 being a challenging operating environment; facing a perfect storm of inflation, rate rises and geopolitical risks, it was ultimately a strong year, driven by benefits from expansion and economic recovery. 2023 sees banking earmarked for continued growth, particularly for corporate/wholesale banking.
More recently, banks have been subject to a greater level of account switching. Following on from this, as an essential part of their business, financial institutions have been placed under huge pressure to onboard a new client at a far greater speed than ever before. In this blog we discuss how banks can expedite their customer onboarding with KYC process automation.
Transformation of complex Know Your Customer (KYC)
While revenue streams are significant for corporate clients, the KYC onboarding process can be lengthy when looking for the money laundering bad actors, hidden within complex corporate structures and hierarchies.
Time spent unraveling these structures with manual processes for KYC are not cost effective. They are labor intensive and create internal pressure. Increasing volumes, reducing headcounts and predicted growth within the sector requires the management team to be both resilient and nimble while staying the course on longer term transformation.
KYC automation should form part of the transformation strategy for major financial institutions who are looking to grab a slice of the pie and gain longer term benefits of faster onboarding of clients.
Customer experience driving change
Expounding the digital transformation theme is not new. But the focus should now be on accelerating the pace of transformation and automate workflows for uncovering corporate structures and ultimate beneficial ownership (UBO) verification of entities.
All the while keeping laser focused on the best solution for delivering benefits to the business – not only profitability for the bank, but also in delivering exceptional customer experience, that will create customer advocacy.
Adopting technology to deliver automation at the point of KYC onboarding drives a digital experience that will help the institution differentiate themselves on factors other than price or product, to better reduce the risk of losing out to competitors.
The challenges of manual KYC
Financial institutions that target corporate clients know that solving the customer due diligence conundrum is key to success in the market.
Human error can often creep into manual processes within compliance teams, in addition to being resource-heavy, and therefore expensive, making risk management difficult to achieve.
Unraveling ultimate beneficial ownership of entities is important to prevent financial crime and achieve compliance, but it is an onerous task. Traditional KYC is a time-consuming and labor-intensive process with key challenges:
Corporate client onboarding can be as much as 60 days
Customer frustration from numerous follow-ups that request additional customer information, or the same information being requested several times
Multiple data points, data extraction and documents not delivered in real-time
Legacy systems, often with manual data entry, that risk poor integration with an existing Client Lifecycle Management (CLM)
Delivering customer due diligence
KYC is only one element of client onboarding. Customer due diligence requires that detailed checks or investigations be made against those who have the most influence over these companies.
A full investigation into the entity and the fundamental ability to rely on automation to provide higher levels of straight through processing (STP) of the onboarding process is critical.
With KYC automation, for verification of the corporate entity, banks can unwrap the corporate ownership structures and hierarchies faster and more accurately than analysts can. The output enables consistency and standardization of automated KYC processes across jurisdictions.
The benefits of KYC process automation
KYC automation brings long term benefits both to customers and the bank:
Improved relationships, both for the customer experience and employee satisfaction
Automation can reduce the time spent on KYC data and document retrieval, collection and analysis by up to 100%.
Analysts can reallocate their time to fully investigate the time-consuming complex KYC cases that require further scrutiny by removing mundane tasks
Automation assists the compliance team in delivering on their risk management goals, while avoiding reputational and regulatory risk
Automation has a positive impact on high costs, increases productivity, improves accuracy, and expedites the KYC process to provide financial institutions with improved KYC procedures for onboarding customers. Time to revenue and increased profitability are a direct benefit that can be realized and measured to support the bank in achieving its strategic goals.
How to deliver KYC automation
Focusing on complete, real-time KYC investigations, an instantaneous picture of the client information and documents are shown in one single view from the Encompass platform.
It brings together, integrates, and analyzes over 175 data products into a single golden source of information, to automate digital KYC profile building while performing live searches to verify documents and data.
Process automation uses software technology to automate the repetitive, tedious, manual tasks that create bottlenecks in manual systems. An automated process is designed to streamline, manage the complexity of and execute mundane tasks, that cause humans to glaze over.
Zero human involvement
With zero human involvement, traditional manual KYC checks are automated to build real-time KYC profiles for review only where necessary. Multiple searches can be performed concurrently by automating the financial institutions search procedure.
Manual KYC processes can be reduced from an average of 5-10 hours to 8 minutes with Encompass' KYC automation
Data is extracted for a clear audit trail
Reduction in human error
Automation delivers consistency of KYC process across the analyst team
Process automation for enhanced corporate onboarding
Automated KYC is developing quickly, through the application of new technologies, the development of which provides ever faster and more accurate processes. This, in turn, lowers the overall cost and improves the cost-efficiency of introducing an automated KYC platform.
Just as customers do not want to be kept waiting when trying to open a bank account, amidst seemingly endless processes; companies do not want to be held up because the bank's processes of KYC against corporate databases, when checking UBOs, PEPs, sanctions and adverse media, is taking weeks or months, rather than days.
A valuable tool
KYC automation is a valuable risk reduction technology that can help banks reduce costs, remove error prone processes, and speed up the KYC journey.
Investment in next generation technology to modernize and automate processes such as onboarding, delivers real benefits. For banks to stay competitive, they will need to stay the course on these multi-year investments.
You also might be interested in