A new case requires that you investigate a company and form an understanding of which individuals own and control it. You need to quickly grasp the full corporate structure. In this new series of videos, learn how Encompass Verify for Law, can help you understand corporate structure and identify the ultimate beneficial owner.
Using multiple data sources, Encompass Verify exposes the full corporate structure with a Global Ultimate Parent – in this case, an overseas investment authority based in the Middle East.
Watch our video to learn how opening the company report on the investment authority shows Kensington Limited, a company registered in the UK, to have a Beneficial Owner in an overseas government.
Realising that this is complex corporate structure raises a number of legal questions, including:
Who are the politically exposed persons at this company?
Does the company operate in a jurisdiction that is on a Sanction list?
Do we need to apply Enhanced Due Diligence to this company, i.e., continually monitor it?
Can our firm work with this company, if it's based in a sanctioned country?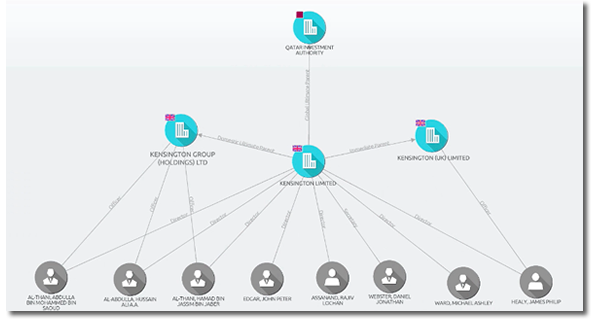 In this video, you've investigated the complex corporate structure to identify that the ultimate beneficial owner is an overseas government.
Further investigation is required before your firm can accept this company as a client.
Automating your search means you've reached this understanding in a few minutes, making you productive while reducing your risk of missing important information.
To experience these benefits in your firm, request a demo of Encompass Verify.
Learn more about Encompass Verify
See Encompass in action as we demonstrate with just a few clicks of the mouse, after an initial search on Companies House, using Encompass Verify you can run a Land Registry search on the newly discovered property. This reveals the property has a secured creditor in the Bank of Scotland and further searching reveals a valuation that shows the property to be now worth more than £1.5 million – meaning that more than £600,000 of value is potentially available for recovery in your legal case. Watch the video.
about encompass
Founded in 2011 by entrepreneurs Roger Carson and Wayne Johnson, and operating from the UK, encompass is the creator of unique, innovative Know Your Customer (KYC) software for banking, finance, legal and accountancy that enable better, faster commercial decisions. The company is driven by the belief that the best decisions are made when people understand the full picture.
want to turn regulation compliance
in to a competitive advantage?
Contact us today to arrange your personalised consultation of encompass. Discover how our KYC automation software can help your business accelerate onboarding and give you peace of mind that you are regulator ready.