How Encompass can transform processes for fund services companies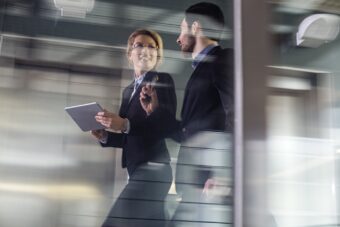 The fund services industry has seen rapid growth since coming into focus after the 2008 financial crisis.
In that time, the popularity of alternative investments has increased significantly, with total assets going from $3 trillion in 2012 to around $17 trillion in 2020. Because of this inflow of capital, the sector has also grown significantly.
As a result of large mergers and acquisitions, we have seen a number of global players vying to be market leaders. This growth, however, has outstripped the technological advancements, with many firms relying on traditional processes, especially in Know Your Customer (KYC) – both across onboarding and refresh.
Having said that, recently, there has been a shift, as firms look increasingly to digital transformation to give them the edge by offering the kind of customer journey that is going to attract new investors and better service each investment fund they are partnering with. As we know, crucial to this is the onboarding process.
Onboarding in fund services
In fund services, there is a reliance on the need to complete lengthy onboarding documents, which can cause delays and result in complex business information being missed, leading to customer dissatisfaction and valuable time being spent on time-consuming manual tasks, rather than where input is most needed.
With firms across the industry operating in more than 30 jurisdictions in many cases, we regularly see customers having to be onboarded twice if they require services outside of the jurisdiction they operate in, and the overall process taking weeks to complete, which can have significant knock-on effects when it comes to long-term success.
The benefits of Encompass
In the current climate, a seamless digital experience is a must. Lengthy and difficult KYC processes will no longer be tolerated and, with investors often completing applications with a number of others, those that can offer the quickest and most efficient onboarding process stand out.
Encompass automates the most time-consuming and manual aspect of KYC, Customer Due Diligence (CDD), with Intelligent Process Automation (IPA) collecting and analyzing the vast amount of data required in a fraction of the time taken by a human, with greater accuracy.
The result of this is a reduction in costs, improved KYC and significantly reduced customer onboarding times. Encompass has been proven to reduce the time taken to perform KYC due diligence by up to 98%, bringing a smoother and more beneficial process for the customer, as well as saving time and effort internally, consequently boosting productivity.
This expedited onboarding stage is supported by targeted onboarding documentation, with improved KYC due diligence dramatically reducing the client outreach required. This allows a firm to offer industry leading experience faster, win more business and increase customer profitability. Giving a single view of a customer, regardless of where they are onboarded, Encompass facilitates global onboarding, allowing investors to utilize the suite of services fully and benefit from a faster time to revenue.
The challenge in processes
Another theme I have noted across the wider industry is the deviation from processes as firms grow, in part due to the siloed nature of each jurisdiction or business unit, and it is here that we see how driving standardization and centralization across KYC is key, offering a transparent view of the entire process.
With expansion, the constant integration and remediation of client books can also bring difficulties, particularly around the time it takes to work through a backlog of legal entities. Newly acquired businesses can also be in new jurisdictions, meaning further regulatory requirements must be taken into consideration in order to ensure consistent compliance. Adherence to processes, from a compliance perspective, is non-negotiable. A key issue, in this instance, is identifying Ultimate Beneficial Ownership (UBO) and unwrapping corporate structures, which can be complex and a contributing factor in prolonged onboarding processes.
Streamlining and finding efficiencies with Encompass
This is where Encompass comes in. One of the main benefits of RegTech, specifically intelligent process automation, is the standardization of processes that comes with utilizing a solution like ours.
It automates repetitive manual tasks, like data gathering, providing the opportunity to streamline onboarding efforts across the organization, as well as driving efficiency by saving time, money and eliminating the risk of human error.
Leveraging automation in this way means that each task related to KYC is completed consistently, and a detailed audit trail ensures every search and action is accurately recorded for regulatory purposes. Specifically, we reduce the cost associated with KYC through increasing the capacity of onboarding and operations teams by reallocating hours that were spent manually gathering data to reviewing business critical risks.
Knowing the people behind a corporate customer is a crucial element of a robust KYC compliance programme – and where many relying on manual processes struggle. Gathering and analyzing the information needed to identify UBOs and understand the ownership structure can be costly. Prone to error, operating in this way can also leave firms exposed to unknown risks.
Encompass still allows for a personal onboarding experience, which is crucial, but executes the basic tasks of gathering and collating data, to produce a targeted initial document, contributing to earlier identification of risk.
Using IPA, Encompass retrieves and analyzes company information from an organization's trusted sources, and according to specific KYC policy requirements. This information, along with original documents, is saved to a digital profile, minimizing room for human error and allowing analysts to dedicate their time to the most pressing and intricate investigative work.
With access to a leading selection of data providers and public registries, regulators and listings, Encompass can support customers who operate in a range of jurisdictions. Because of this unrivaled access, our customers can corroborate all client data to lower the risk associated with an entity.
Fund services is a traditional industry that has experienced a shift towards digitalisation and partnering with a vendor like Encompass, that can harmonise highly skilled analytical work with automation, could be key to sustainable growth for years to come.
You also might be interested in