Why banks need RegTech solutions to succeed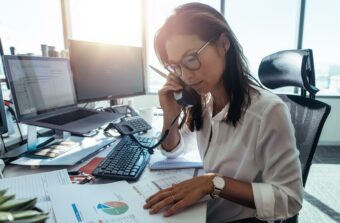 RegTech solutions have become increasingly critical to banks looking to accelerate digital transformation initiatives to power operational efficiency and, ultimately, growth.
While compliance teams value the speed, accuracy and control that RegTech solutions provide, executives see benefits in the efficiency and scalability that is delivered.
In this Q&A, Alex Ford (President, North America, Encompass) and Jo Ann Barefoot (CEO & co-founder of the Alliance for Innovative Regulation) share their views on the relationship between banks and RegTech providers, the impact of RegTech solutions, and more.
What is the current state of the relationship between RegTech providers and banks?
Alex Ford: Banks are more open to adopting RegTech solutions, as they have been shown to significantly help in response to evolving regulations and improving operational efficiency. Banks hoping to move beyond a manual, spreadsheet-based response are now actively looking to technologies like automation to give them an edge.
Jo Ann Barefoot: The relationship is reaching an inflection point, where the ability for banks to work with RegTechs is accelerating. Banks need better tools and RegTechs are fast working to build them.
As more digitally native RegTech tools have emerged, they've replaced older analogue tools and, despite headwinds towards adoption, uptake is now accelerating. This will be proven out as banks evolve to the point of using suites of RegTech solutions that will be able to improve a bank's compliance and regulatory performance.
Where can RegTech solutions most impact a bank's compliance operations in the short-term? Where do you see the long-term impact?
AF: RegTechs can provide a significant short-term impact to a bank's compliance operations, especially in situations where the incumbent solution(s) requires manual processing. Wherever technology, digitization and automation can effectively supplant human effort, you're going to see a big impact.
Longer term, RegTechs are likely to have a deeper, more  entrenched impact, and be able to move  the outcomes of bank compliance efforts closer to the intention of the regulator.
JB: RegTechs will have the most impact in AML. RegTechs can aid in the KYC work that is required to assess whether to allow a person or entity to have a bank account or financial relationship, with solutions also impacting transaction monitoring. Meanwhile, RegTechs that bring data and analytics together can bring about better case analysis, helping banks determine whether money laundering has occurred.
RegTechs are in position to fundamentally transform how financial institutions manage technology.
What are some of the innovative RegTech use cases in banking?
AF: The most interesting use cases for RegTech involve addressing today's most pressing issues, such as such as ESG, consumer data protection, sanctions, and bringing greater levels of trust and transparency to crypto.
RegTechs will be an effective partner in helping financial institutions tackle regulatory changes, from keeping track of new sanctions on entities, to meeting updated beneficial ownership requirements. RegTechs will also be able to help banks achieve an 'always-on' or 'perpetual' KYC model (pKYC) that will make the compliance process significantly faster, more effective, and less costly.
JB: We're moving into a period where supervisory technology (SupTech) will flourish and will increasingly be used by the regulators themselves. Expect to see similar types of tools used by risk evaluation entities, like auditors, as well. While there will be a need to customize these tools to meet unique regulatory needs of the end-user, the underlying technology that can gather and analyze data is the same.
For more, read the full report at the link below.
You also might be interested in