3 key learns from Fraud and Financial Crime Europe 2019
47% of businesses have been affected by financial crime within the last 12 months. This is one of the key statistics that caught attention at the 2019 edition of the Center for Financial Professionals (CEFPRO) Fraud and Financial Crime Europe conference.
There was plenty on the bill in London earlier this month (2-3 April), as professionals from across the industry got together to hear about and discuss the latest issues affecting businesses.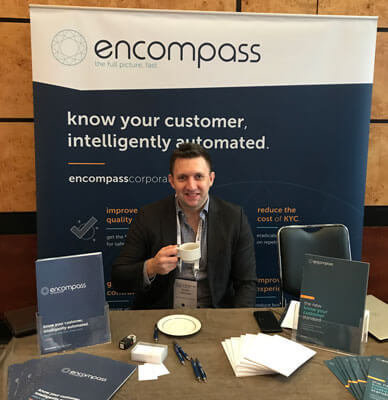 With encompass acting as an Associate Sponsor, and Senior Product Manager Robyn Todd joining a panel to discuss the potential uses of technology – including Artificial Intelligence (AI) and Machine Learning (ML) – to automate and increase fraud and Anti-Money Laundering (AML) detection, it was an important event on our calendar as we had the chance to connect with key players across the space.
Our Business Development Manager, Simon Gillmore, was also in attendance. What did he learn and find most useful throughout the conference? From the true cost of financial crime to how firms are gearing up for 5MLD, there is plenty to reflect on, as he explains…
the cost of financial crime
One of the most relevant pieces of information I took away from the conference was that $1.47tn is the total sum of money lost to financial crime globally, which is 5% of global GDP.
Perhaps even more impactful is the fact that if this was a country then it would be the 15th biggest country in the world in terms of GDP.
These stark figures show just how much the problem is costing us as a society and only underlines the need to increase our efforts in the fight to tackle the issue – it is more important now than ever before.
In this vein, we also delved into the psychology of fraud. The main conclusion from this is that a large proportion of the population would commit small "frauds" if they could get away with it and then rationalise it to themselves that they weren't doing anything wrong – such as claiming for slightly more on expenses or not following compliance rules in the right way and thinking that the regulator doesn't understand their business so they don't have to apply the rules in the same way.
It is also worth noting that any movement of any funds from fraudulent activity can be deemed to be money laundering and therefore it is important that banks are able to enforce their compliance policies consistently across the organisation.
getting ready for 5MLD
It has to be said that most banks were surprised by the speed at which the 5th Money Laundering Directive (5MLD) needs to be implemented. The majority haven't finished putting the particulars of 4MLD into operation yet. With 6MLD also not far behind, the need to run fast(er) is becoming more apparent.
The main challenges banks face in implementing 5MLD were also brought to the fore, and those which were identified as vital and presenting areas to work on were:
banks and fintech firms are competing for a limited pool of skilled AML/KYC professionals
banks need plans in place to respond quickly to changes in country risk
banks relied heavily on contractors to help implement 4MLD but it will be harder to find quality contractors for this latest directive
the requirement for banks to upload account details to a central register will be challenging as it probably won't be standardised across countries
onboarding and, in fact, remediation projects are still a highly manual process, with cost, quality control and the increased workload becoming more and more prevalent. The desire to take advantage of service based automated solutions is becoming front and centre of conversations
There is an expectation from banks that there will be an increase in the size and frequency of fines handed out by US and EU regulators
5MLD is something that is approaching and must be taken seriously, so these concerns emphasise the fact that there is work to be done in order to ensure that firms are compliant and it is a top priority right through the sector.
the barriers to AI
Artificial Intelligence (AI) and Collective Intelligence (CI), and their use, is increasing as businesses see the benefits. However, some banks are still coming up against barriers when they look to implement AI themselves, such as:
the cost of building and maintaining AI
fierce competition for limited talent
limited and inconsistent data
the time taken to publish new data models
model governance
unique challenges of financial crime and compliance
It is for these reasons that firms may find themselves turning to regtech providers. Combining AI and traditional data sources is becoming more pertinent and, with encompass, it is possible to dynamically build a visual picture of a company or individual in just minutes.
final thoughts
When looking back at the event as a whole, it was very interesting and worthwhile hearing from industry experts on the outlook for the financial services industry regarding compliance and financial crime and how they are looking to embrace technology and AI to meet these challenges.
encompass has the opportunity to work with our clients and partners to help them implement IPA into their KYC processes to reduce onboarding times, ensure policies are followed consistently and improve client experience, and it is one that we must embrace.
Encompass' intelligent process automation conducts live document and data collection, analysis and integration from public and premium sources to bring transparency to complex corporate structures and ultimate beneficial ownership, delivering the most accurate and complete KYC on demand.