AML RegTech roundup webinar – summary
This year, we saw many changes to regulation, increased fines for non-compliance, and a surge in new technology being developed to help firms with Anti-Money Laundering (AML) compliance.
Dr. Henry Balani, compliance and AML specialist and academic, hosted an end-of-year webinar to take us through the changes in AML RegTech and look ahead to potential trends in 2020.
Here, we give a summary of the key talking points and Dr Balani's interesting and timely insights.
What is RegTech?
Delving into what RegTech is, and its impact, Dr Balani focused on key drivers in the space and the operational areas it impacts.
Defining RegTech, and acknowledging that it carries differing meanings within different contexts, he explained that it is "when rules meet technology" – whether that be regulatory, external rules or internal procedural rules.
It, Dr Balani shared, is there to provide real-time insights through learning and various technology tools, such as blockchain and Artificial Intelligence (AI).
RegTech identifies problems in advance rather than simply taking enforcement action after the fact. One of the main market benefits of RegTech, Dr Balani explained, is the ability provided to be proactive and use the information it gives for meaningful insight.
Growth potential of RegTech
He then explored the operational purposes and advancement of RegTech, illustrating, through the use of research from firm Technavio, its growth. According to their in-depth research, the global market size has the potential to grow by US$5.99 billion during 2019-2023, and the market's growth momentum will accelerate throughout the forecast period.
Going one step further, one of the crucial drivers of this growth will be the need to identify increasing financial crimes, something that we know is a pertinent issue and that Dr Balani concludes we "all need to recognise and be aware of," with 34% of the growth itself expected to come from North America.
Encouragingly, what the research referenced during the webinar also pointed to was an upward trend, in terms of global RegTech investment and the areas of AML, Know Your Customer (KYC) and fraud prevention.
Why is RegTech advancing?
According to Dr Balani, the most important contributor to the progression of RegTech is the increasing sophistication of money laundering globally. "What this results in is the increasing cost of compliance and reputational impact."
This cost is driven by regulations, including the Fifth Money Laundering Directive (5AMLD), and enforcement actions, with it all coming back to driving the need for RegTech solutions. Stats show that there is growing awareness and recognition that regulatory changes do prompt the need for such solutions.
The global outlook for RegTech
"RegTech is global" – as well as looking at the particulars of RegTech itself, Henry also gave some insight into how RegTech is seen around the world, focusing particularly on the UK and US, pointing to authority focus and how both nations have shown their commitment to expanding RegTech's footprint, which, he concluded, is very much of global importance.
What about AML compliance penalties?
Showing how RegTech can be central to ensuring compliance, and therefore avoiding sanctions, the webinar also explored research that Henry has carried out into the rise in AML penalties.
The research focused on AML-related penalties that have been handed down between 2002 and 2019, with a particular spotlight on 2018 and 2019, and found that this year is on track to be a year of record fines. What is the impact of this sharp rise?
This [rise] is not lost on the market, in terms of not only the potential penalty amount, which are very damaging, but also the reputational impact they can have. This is a concern – they need to be able to address some of these challenges.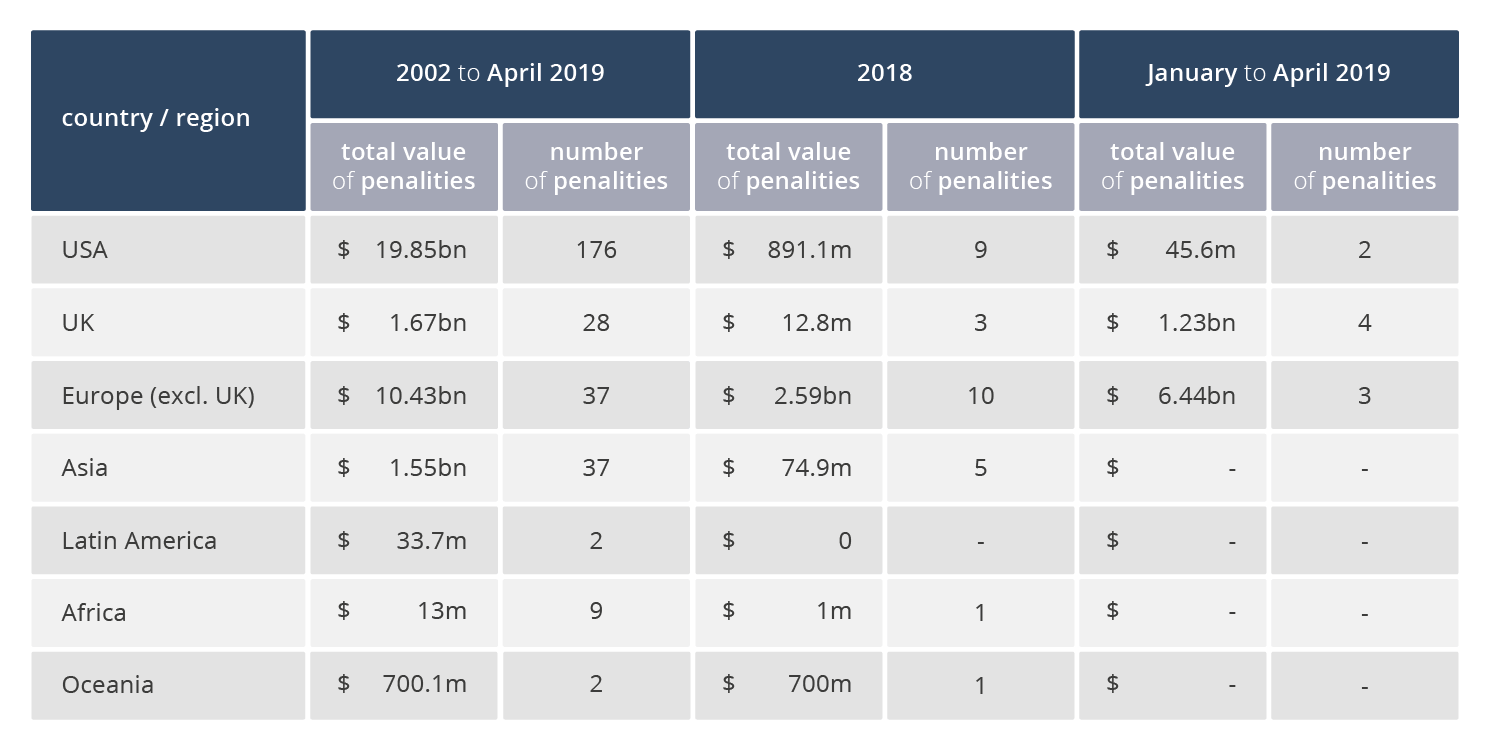 The technology behind RegTech
The RegTech industry relies on key technologies for solutions, and the advancement of these technologies has benefited the sector as a whole. Looking at the key options, Henry explained the importance of the likes of cloud computing, intelligent process automation (IPA), machine learning and natural language processing to developments on a wider scale.
To sum up…
RegTech is here to stay. Pointing to the fact that regulators see the benefit, Dr Balani insisted:
We see different drivers, not least regulations, but also the cost of compliance, which continues to be important. We'll see RegTech continue to grow in the marketplace and see firms benefit from the application.
You also might be interested in