Celebrating International Women's Day 2021: The banking view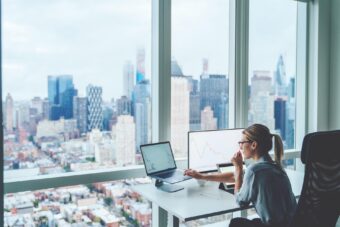 This week, we are celebrating International Women's Day, which recognises the social, economic, cultural, and political achievements of women around the world.
We are sharing the stories and experiences of leading female figures across law, financial services and RegTech, telling, in their words, what it is like to work in their industry and how they have succeeded.
Putting the focus on financial services, we spoke to Dr Julie Beesley, Group Chief Financial Crime Risk Officer at NatWest Group, Ewa Frąckiewicz, Global Regulatory Compliance, Digital & Distribution, Senior Manager at HSBC and Aglinda Hoxha, Head of Risk at UBS, who offer insight into their careers and what it means to be a woman working in banking today.
Tell us a bit about you…
Dr Julie Beesley: I love seeing things differently, and combining art and science, so my hobbies usually center around the two. My current role is the Group Chief Financial Crime Risk Officer at the NatWest Group, so essentially trying to stay one step ahead of the criminals, which is often more art than science.
Ewa Frąckiewicz: I was born and grew up in Poland, where I started my banking career as a KYC analyst. This experience made me realise that I wanted to grow and develop in that area. A few years ago, I moved to London to help me reach my career aspirations and I could not be happier! I am currently a Senior Digital Compliance Manager at HSBC. In my spare time, I enjoy watercolor and mixed media painting, and recently I have started getting into photography. I love sport, especially horse riding, running and practicing yoga.
Aglinda Hoxha: With nearly two decades of experience in banking and having worked in various client-facing roles with Barclays and HSBC, I currently thoroughly enjoy heading up the Front Office Risk Team for UBS Wealth Management UK.
As well as spending time with my family, I really enjoy opera, theatre, and live performances in general. Before the pandemic, I attended at least one performance each month.
Why did you choose to work in the industry?
J: To make a difference. I am passionate about all things financial crime, and my current role allows me to do that.
E: To be honest, that was a coincidence rather than a planned career step. After my university studies, during which I obtained an Anthropology degree, I was hired in an entry-level role in a bank and, after a few years and different roles, I really understood the intricacies of financial crime and the importance of compliance. I also realised the magnitude of the responsibility that those in compliance, and other professionals within the financial services sector, have to protect our customers, communities and markets from criminals.
A: Working in finance was more of second choice rather than a planned career. I always intended to study medicine and become a doctor. However, due to various challenges and obstacles, I changed direction and began combining my studies in Financial Economics with a career in banking.
The theme for this year's IWD is 'Choose to Challenge' – what would you do to improve opportunities for women, and equality across the board?
J: It is on all line managers of an organization – not just tone from the top – to make a difference and ensure the applicant pool for open roles includes at least one female and rethink your interview questions. Researchers have observed that women generally have stronger skills reading non-verbal cues than men. In today's 'zoom' age and with so many working from home, I believe there is a real opportunity and need for more women to help collaboration and communication across the board. Ensure your interview pack brings out this skill set and differentiates between candidates – you might well be surprised!
E: 'Choose to Challenge' is a powerful and transformative theme. It is about confronting the status quo and igniting actions to overcome the inequalities, biases and stereotypes that profoundly impact all minorities. In my view, a way to improve opportunities for women is to start at a personal level, proactively educating ourselves and raising awareness of the problem, and then making a firm commitment to, for example, balance out under-represented groups, celebrate women's achievements, increase visibility, and have an open and honest discourse about inequalities.
A: Support women to progress by encouraging more career comeback programmes and generally increasing flexibility for working parents.
In your industry and role, do you feel there is a positive gender balance?
J: It is getting closer, but more needs to be done across the board – there are still more men than women at most meetings I attend, both within and outside the bank.
E: I can definitely see a positive change. At HSBC, women make up 52% of the global workforce, and 35.7% of HSBC's board of directors were women as of the end of last year. Our Group CEO, Noel Quinn, signed up to the 30% Club's CEO campaign, committing to having 30% of women in senior leadership roles across the bank by the end of 2020, and we have more positive work to do here. It makes me proud, happy, and hopeful every time I see my female peers in senior management positions, and also women who are thriving in jobs or areas of subject matter expertise which, for many years, were not accessible because of gender bias. There is still a lot of work to do but, as a huge advocate for women, I am looking forward to a future where all girls' and women's ambitions can be fulfilled without gender barriers.
A: Not necessarily, but I have had to work extremely hard to keep momentum while looking after my young family. Overall, it is still obvious that women are in the minority in banking, and more so in senior roles.
Have you faced any hurdles because of your gender?
J: In general, no, I've been lucky, but there have always been instances across my career that stand out.
E: Frankly speaking, working within banking can be challenging for anyone. In the past, there were situations in my career when I was the only female in the room and I struggled to have my voice heard. I have also been in situations where I was fighting stereotypes and trying to prove that was "up to the task", instead of focusing on delivering quality results. Now, I can see things have started to change but I know there are plenty of women struggling every day just because of their gender.
A: It is an interesting question, but, on reflection, I don't think I have.
How can we make work environments more inclusive?
J: Flexibility is key, so, in the 'new norm', the continued opportunity to work from home may prove to be a differentiating factor.
E: Nowadays, there are tools that companies could adopt to build a more inclusive environment. HSBC's 'BALANCE' is a network of 59,000 participants supporting our gender agenda by seeking out opportunities to improve the employee experience. The network is sponsored by Georges Elhedery, Co-CEO of GBM, and Terecina Kwong, COO, HSBC Europe, and supported by three global co-chairs. It also has an Ambassador Programme, sponsored by Leanne Cutts, Group Chief Marketing Officer, which consists of senior executives who are championing gender inclusion around the world.
Making the environment more inclusive also means a cultural transformation, which starts in our minds – by recognising and acknowledging gender biases (conscious and unconscious), especially if you relate to a group with privileges. Also, as a society, we must remain cognizant of the problem of inequalities at all levels and take take strong, decisive steps to address them.
A: Encourage and promote more women into senior roles. Build clear progression plans for them by providing the right training and development programmes.
On International Women's Day, what is the most important message you want to send out to young women thinking about their careers?
J: Only you can make things happen. Do something you are passionate about and you can't go far wrong. You spend most of your waking day at work, so do something that brings a smile to your face.
E: Sometimes the most important thing is to take the first step. It does not matter how small it seems to be. Everything has a beginning, and everyone starts somewhere. Don't be put off by someone else's criticism. If you struggle with confidence, remember it requires courage and often skills and perseverance to speak up, make a decision or to be seen by others, and this is what matters most.
A: Focus on showing what you are great at – not on what you think will stop you from achieving. Don't let any 'imposter syndrome' define you.
Who do you see as a role model within the industry?
J: I have never seen just one role model. I see different people who role model different skills, knowledge and behaviours – and, most importantly, at all levels. You learn from everyone. I generally cherry pick and learn from the best of everyone.
E: There are so many strong female role models, who can count achievements that inspire me every day, including: Stacey Abrams, Jacinda Ardern, Rania Nashar, Kersti Kaljulaid, Phumzile Mlambo-Ngcuka, Anja Rubik, Abby Wambach… and many more! It is so important to have a public debate about female role models, particularly in male-dominated fields, because these women are change catalysts for the next generations.
A: It depends. My inspirations and motivations come not just from people within the industry but also from my close circle of friends and family. If I must give a name then it has to be my older sister, Ella Hoxha, for knowing how to rise up with her head held high no matter what, and shine whenever there is darkness.
What does IWD mean to you?
J: The chance to pause and reflect on my own career, and how I can make a small but important difference to someone else's.
E: It is a time when I reflect on my career and the progress I have made as a female within banking, but also a reminder of the further change that is required, for all nations across the globe, in order to enable gender equality within all industries.
A: It is all about recognition and appreciation.
You also might be interested in