Delivering next generation know your customer capabilities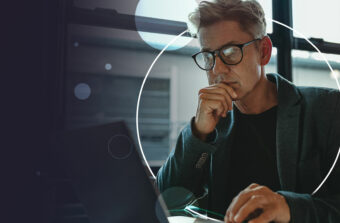 A smarter approach to know your customer (KYC) has become an imperative for banks. Delivering next generation know your customer capabilities leads to better business outcomes, faster time to market and higher retention rates.
Next-generation KYC capabilities
KYC programs are key to customer success and retention. Improving the effectiveness of KYC processes within a bank can also generate substantial business value.
The value is created in leveraging the intelligence beyond the regulatory tick box exercise that can cause friction with clients. With a smarter approach, from improved data collection and better analytics, banks can benefit from deeper customer intelligence and insights. In turn there is increased revenue, improved customer experience and lower costs. As a result, this delivers a strategic opportunity for growth.
Integration with existing KYC technology
Banks often cite insufficient technology budget for the delay in KYC transformation. Additionally, technical debt, along with a siloed and complex IT architecture can be held responsible for slow adoption. While budget is always a discussion to be had, adding these additional barriers should no longer be an excuse or reason to stall KYC improvement.
Modern technology removes the need for a full system overhaul. Instead, KYC process automation can integrate with existing technology stacks to build out a digital ecosystem to support KYC delivery.
Existing infrastructure, such as client lifecycle management (CLM) applications, can remain. As a result, the entire end-to-end KYC lifecycle can be transformed.
Streamlining data quality
Data quality problems increase operational costs for corporate onboarding and ongoing maintenance. These are driven by non-standardized formats. As well as duplicate and incomplete information from both structured and unstructured data taken from a diverse range of resources.
Manually gathering, analyzing, and interpreting the data relies on the allocation of significant resources. Subsequently, backlogs and human error occur with end-to-end KYC execution being hampered.
To overcome this problem, technology like Encompass brings together 175+ data products. The technology automates the client's KYC search procedure and standardizes the data and collates it via a single platform. Furthermore, automating live KYC profile building, which in turn delivers deeper customer intelligence and insight. Having a consistent KYC profile from specified and trusted sources enables analysts to perform their analysis to a much higher degree of consistency than manually gathering the data.
Unwrapping ownership structures faster
Banks can apply a consistent approach through the application of rules within the automation layer. Client or entity ownership structures and hierarchies can be unwrapped faster with focused real-time KYC investigations.
Embedding software to overhaul the integration and data architecture allows the bank to improve the effectiveness and efficiency of their KYC process. By refining risk-based policies and improving, or adding, the use of public data, banks can reduce customer outreach during the KYC process.
Using technology to build a real-time digital profile
Automated KYC streamlines both the onboarding and periodic review process and is a foundational step for a perpetual KYC (pKYC) or trigger event-based model. At the outset of the client relationship data and documents can be pulled together from several sources for KYC investigation. The technology used overcomes the challenge of managing different data formats with data primacy rules, entity resolution and providing client level data that can be re-used across multiple bank systems. Having the opportunity to reorganize data ensures analysts can utilize it for further queries and analysis. This includes eliminating redundant and unstructured data and making the data appear similar across all records and fields.
The output is displayed as a real-time digital KYC profile with the additional benefit of a dynamic audit trail also being built in real-time.
End-to-end KYC process automation
Banks that extend their digital transformation strategy to include the KYC process can generate significant business value in the following areas:
Risk effectiveness – with an increase in quality
Client experience – to improve retention
Productivity/efficiency – increase in KYC cases processed per month
Revenue – avoidance of business losses and improvement in onboarding times
Employee experience – reduction in attrition
Rethinking KYC
Large banks are inherently less agile than FinTech's due to the scale of their legacy operations. A reliance on traditional operating models, coupled with limited adoption of agile ways of working, can hinder transformation.
Regulators are expecting banks to embrace modern technology and demonstrate how its advantages can be leveraged over a manual approach. As the business landscape changes, there is significant pressure on banks, from many angles, to rethink their approach to KYC. The increased focus brings opportunity to partner with vendors to seize the opportunity for automation rather than look to self-build solutions. With transformation there is the benefit of risk mitigation, reduced human errors, scalability, and an improved customer experience.
Previous hurdles can now be overcome, and the bank should look at a smarter approach to KYC transformation, bringing it into the wider transformation strategy of the bank and delivering next generation KYC capabilities.
Read our whitepaper to find out more.
You also might be interested in