Encompass features in new series considering initiatives leading compliance into the future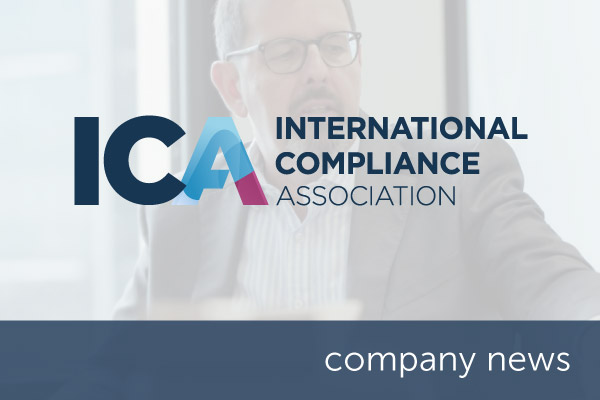 Encompass features in new series considering initiatives leading compliance into the future
Encompass today shares news of involvement in a series that addresses the role of the compliance professional, and the latest insights, challenges and opportunities for business growth, co-produced by The International Compliance Association (ICA) and ITN Productions Industry News.
Anchored by TV presenter Michael Underwood, 'Compliance: the new decade', comprising news-style programmes, will explore the vital role of RegTech in accelerating compliance efficiencies; the technology and expertise needed to tackle financial crime and money laundering; how AI can be applied to identify risk and sustainable finance solutions and best practice to future-proof the compliance function.
The first report, within which Encompass' co-founders, Wayne Johnson and Roger Carson, discuss the company's story and the place of RegTech alongside former Chief Risk Officer Stephen Allen, premieres at The BIG Compliance Festival, ICA's virtual summit for compliance and financial crime professionals, on September 17 2020.
The series will form part of an extensive communications campaign to ICA members and professional partners throughout September and October 2020.
Bill Howarth, President of the International Compliance Association said:
We are really pleased to be working with ITN Productions again on a film focusing on future-gazing topics that will resonate with our members and the global compliance community. The pace of change never slows down and it's vital that compliance and AML professionals have the right skills and technology to help them stay ahead.
Elizabeth Fisher-Robins, Head of ITN Productions Industry News said:
We are really excited by the opportunity to partner again with the International Compliance Association to create a series that we hope will educate and inform viewers about the key role compliance plays in managing risk and delivering commercial advantage in an ever-changing digital environment.
The series features key industry interviews, news-style reports and sponsored editorial profiles from Encompass, Refinitiv, Napier and Capnovum.
'Compliance: The New Decade' can be viewed here.
Encompass' intelligent process automation conducts live document and data collection, analysis and integration from public and premium sources to bring transparency to complex corporate structures and ultimate beneficial ownership, delivering the most accurate and complete KYC on demand.
[hubspot type=cta portal=6032599 id=9abe717a-73f6-4270-a7d2-82bcbb4211a5]
You also might be interested in