IN focus: Veronica Genao shares her participation in Money 20/20's RiseUp program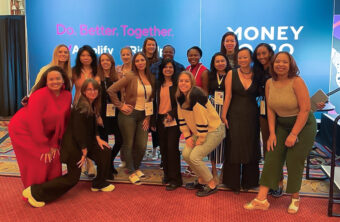 Introducing Veronica Genao, Business Development Director at Encompass. In this blog we talk to Veronica about her participation in the Money 20/20 RiseUp program. 
Money 20/20 RiseUp and Amplify programs
Money 20/20 RiseUp is an annual global program championing greater diversity across the 'money ecosystem'. The program provides all who identify as women the tools and techniques needed to help advance their careers. Started in 2018 the program has supported over 175 women from around the world. 
Additionally, Amplify was launched in 2021 at Money 20/20 USA as an exclusive application only, curated leadership program. The program has now been rolled out across all the Money 20/20 global events. It not only raises visibility, but also cultivates connections for people of color and underrepresented groups in the industry. 
Veronica is an alumna of Money 20/20's RiseUp 2022 cohort. She was also awarded 'network builder' recognition in the NYC Fintech Women's 2022 inspiring fintech females. 
Q: Veronica, was there anything that stood out as part of the RiseUp application process?
A: The application process is not for the faint of heart. As part of my response, I had to reflect on my career to date. I detailed the challenges I have encountered along the way, including lack of sponsorship and visibility.  I also had to think about how I would give back to the program and the community.  
Alumni of the program shared their expertise on stage. Topics included the art of networking; understanding imposter syndrome; enabling an inclusive workforce, and negotiation techniques. 
These presentations made it abundantly clear that I could offer my experience to encourage and support others. It allowed me the opportunity to share the tool kit I have developed to meet and overcome career obstacles. Many of which have required pivots, which is a skillset I believe other members of the program should have in their armory. 
Q: What has been the greatest impact of the Money 20/20 RiseUp program?
A: The Fintech/Regtech landscape is changing; and I'm proud to be part of an incredible group of women helping to shape the evolution. The biggest takeaway from the program is the community of like-minded professionals looking to amplify opportunity for each other and meet goals.  
LaShawna Hampton, Synchrony Financial really set the tone for the start of the program. A key takeaway that continues to permeate within the program is to "Use your voice…even if it shakes." 
Further topics that were explored and resonated with me include: – 
the art of networking

 

a fireside chat on career navigation 

 

resilience with

Jelena McWilliam

s, former Chair of FDIC (Federal Deposit Insurance Corporation)

 

understanding what drives you (your why)

 

and panels on how to be part of a board and have powerful communication techniques. 

 
The topic of identity, while navigating your career, came about in speaking with my cohort members throughout the year long program. It is a common theme in how we show up in our day-to-day work. The context that inspired our career trajectories, and the foundation that allows us to navigate any turbulence in the Fintech/Regtech industry as it evolves.  
Q: What lies ahead?
A: I am excited to be taking part as a speaker at Money 20/20 this year. Bringing my experience of the RiseUp and Amplify programs together with my work at Encompass allows me the opportunity to inspire others within the industry. I am looking forward to welcoming this year's cohorts into the program and moderating the panel on 'Leveraging your Identity to Navigate your Career'.  
Positive change is happening, particularly with the support of these programs. The program is creating an amazing group of diverse fintech leaders. In my cohort alone we had 30+ women from around the world. It is amazing to think that over 85% of program members have already received a promotion/moved into a more senior role since participating in Rise Up and Amplify. 
The program has also created an incredible support network and a group that is helping progress more careers and open new opportunities in the industry for many others. 
Veronica works with Tier 1 and Tier 2 banks across North America to support KYC transformation initiatives through automation. Veronica is seen as a strategic and customer centric partner within the fintech community.  
Connect with Veronica over on LinkedIn
You also might be interested in