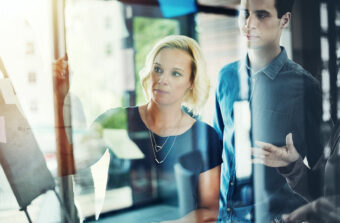 Periodic Know Your Customer (KYC) refresh as we currently know it can no longer keep pace with the speed of change within the financial crime landscape.
The Pandora Papers, Coronavirus pandemic and Russia's ongoing invasion of Ukraine illustrate just how quickly the social, environmental and economic climate can evolve. It is for this reason that institutions can no longer afford to rely on time-bound assessments to unearth material risk, instead they need to be adaptable, dynamic and proactive in the face of challenges.
Perpetual KYC (pKYC) represents a shift from manual periodic customer reviews to a more dynamic, technology-centered and data-driven alternative. This enables institutions to reduce risk exposure and see benefits to their top and bottom lines with:
Improved risk management
Continuously monitoring customer data allows banks to respond faster to changes that may indicate a heightened risk, and take more proactive measures to mitigate risks before they escalate
Improved efficiency
By monitoring data changes in real-time, institutions can focus resources on customer risks that require immediate attention. Similarly, non-material changes may be addressed by straight through processing to the customer record
Improved customer experience
Banks can detect and correct inaccuracies in customer data faster, improving the accuracy of customer information while reducing the frequency of customer engagement
Transitioning to pKYC is a journey
Moving towards pKYC is often a multi-year transformation project. As such, interim checkpoints and outcomes should be established, measured and communicated to maintain stakeholder engagement. Leaders can be so fixated on the end goal of event-driven and dynamic KYC that they lose sight of the steps required to reach it. pKYC should be considered a journey, with no single predefined route across the people, processes, policy, data and technologies concerned with achieving compliance.
There are a few "must-haves" that need to be addressed even at the earliest stages of automation.
Data
Regulatory scrutiny around KYC is intensifying, with supervisors expecting banks to do more with data and improve their systems and controls. While this pressure, together with a wider availability of data, will instill a sense of urgency amongst financial institutions, leaders must balance their enthusiasm with robust data validation and verification. The pKYC model is underpinned by access to accurate and timely data. Outdated, incorrect or missing customer information significantly reduces the reliability of associated triggers, making it difficult to detach from the reassurance of periodic review.
The importance of data quality – both internal and external – cannot be overstated. Poor data quality, in terms of freshness, relevance and reliability can significantly hinder the transition to a tech-enabled approach. Organizations must evaluate their internal and external data and develop a robust remediation plan in order to avoid falling at the first hurdle.
Cultural buy-in
Too often, technological transformation projects are stalled (and sometimes fail altogether) due to a lack of support from key stakeholders. Resistance to change exists as a potential barrier in a transformation project of any kind, with fear, uncertainty and bureaucracy to navigate. Such challenges are exacerbated within larger organizations, as the number of stakeholders increases. Cultural buy-in, including from regulators, is crucial, to getting the project off the ground and garnering sustained investment from the wider organization to ensure ongoing success.
Institutions should engage regulators early and often, as supervisor feedback enables leaders to make better and more timely decisions, while minimizing the risk of later costly disruptions.
A framework for pKYC adoption
Planning your journey to perpetual KYC brings together of the expert insights of our pKYC advisory board. The board, which brought together a range of KYC experts from financial institutions, consultancies and technology vendors, had the collective aim of leveraging first-hand experience to create a framework for pKYC adoption.
The pKYC framework consists of a set of five categories, each housing four sub-components that are considered to be 'enablers' of pKYC adoption. These can be used to inform current state analysis and map the subsequent journey to tech-enablement. While everyone's path to automation is unique, adopting a structured approach to process change that focuses on individual tasks across the framework will make the journey easier to plan, execute and sell internally and externally.
This research enables banks to evaluate their current maturity level to identify gaps and plan a successful path to pKYC.
You also might be interested in