Setting KYC transformation up for success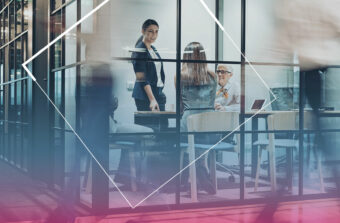 Recently I participated in a webinar around KYC transformation and spoke about my experiences in leading KYC transformation and other major change programs.
I was joined on the panel by Heather Adams (Managing Director, Head of Risk Strategy and Consulting, Accenture UKI) and client lifecycle management and AML transformation expert, Nicola Poole. Across the panel, we highlighted some of the challenges of KYC transformation and what compliance teams need to do to ensure success.
Why transformation is necessary?
Risk enhancements, regulatory pressure, and cost savings are just a few of the reasons why firms should embark on a KYC transformation. As financial crime evolves, KYC is an essential first line of defense that firms can use to ensure they are aware of the riskiness of a client before deciding to onboard. With criminals using ever more advanced methods to infiltrate the financial sector, banks can stop this by reevaluating the way they undertake KYC.
Regulatory pressure is another factor that causes banks to pursue KYC transformation. Regulators have been clear that banks must develop their KYC procedures to ensure they are better equipped to combat these potential risks. Regulators want to ensure that methods are updated in order to safeguard banks' capability to undertake KYC.
Enhanced technology provides firms with the opportunity to perform more rigorous KYC checks. Automating traditionally manual processes can provide significant efficiency gains and cost savings for firms, while also improving the effectiveness of their risk profiling. And significantly improves the client onboarding experience
Challenges of transformation
Banks need to be cognizant of the timing and financial aspects of this transformation and ensure that key stakeholders understand the complexities involved. Planning is therefore critical. In my experience, a successful transformation can be attributed to 95% planning and 5% execution. Spending sufficient time on having an accurate baseline of your current system and data infrastructure, versus what is required under the planned transformation, and looking at how to close this gap is a key part of the program planning process. As noted by Heather during the webinar, it is imperative to establish a clear roadmap to guide transformation teams and key stakeholders through the process. Planning gives all parties an awareness of expected timelines, and also offers an opportunity for senior management to be involved and invested in the project at an early stage.
KYC is not the most 'sexy' project, which can make it a difficult sell to internal stakeholders. Transformation teams must therefore find ways to engage compliance teams and business stakeholders. Integrating senior leadership from the start of the transformation is an effective first step and helps C-level executives and other senior managers to understand the complexities and benefits of effective KYC transformation. From my own experience, it is useful to engage with CEOs throughout the project. They are then able to set the right tone from the top and ensuring it is adequately prioritized across the organization.
Prioritize planning and communication
The key components to successful KYC transformation are planning and ongoing communication. Regular touchpoints with senior management throughout ensure a consistent feedback loop for business iterations and helps maintain strong buy-in for the project's aims. In my experiences of managing KYC transformations, programs that have not been so successful were not necessarily down to bad execution but rather insufficient planning. Spend a sufficient amount of time analyzing your systems and data sources ensuring they are of sufficient quality for the new requirements of the transformation.
During the webinar, Nicola reiterated the importance of communication as part of the transformation process. It is important to outline from the beginning that KYC transformation is a journey which will take years and won't deliver its benefits immediately. Heather noted that to ensure a successful transformation, teams need to bring people along on the journey so they can feel a part of the process. Creating an environment of collective buy-in supports execution of a successful project.
Engagement and transparency with the regulator
As already highlighted, regulators are part of the driving forces for banks undertaking a KYC transformation. It is essential to consistently engage with the regulator throughout the transformation. Consequently, transformation teams need to be transparent with regulators to allow for them to understand how they will execute the project and whether it is on track. Heather pointed out again the need for important planning and a roadmap which stakeholders can follow. This includes incorporating regulators as part of the journey and showing them the story and benefits of the transformation.
Overcoming the vendor selection headache
The panel recognized the selection of a vendor as a significant hurdle to overcome. The vendor market is crowded with many solutions available: with so much choice available, it's key to be clear on your requirements and what the important buyer values are. Undertaking the right level of research will provide the clearest indication of company needs and which vendor solution best meets internal requirements.
Compliance teams must be clear how they can work with the vendor and if the vendor is flexible enough to accommodate company or regional specific requirements.
To successfully execute your KYC transformation, effective planning, communication and transparency are crucial. Having a clear and detailed plan from the start helps compliance teams and business stakeholders recognize that this is a journey that will take time. The ability to communicate this plan and progress to stakeholders as well as your transformation teams will support your transformation and create the environment necessary for successful transformation.
You also might be interested in