effects on the global economy
An Oxfam report, published in January 2016, reported that tax havens had allowed the world's richest people to hide $7.6 trillion. However, and perhaps because, major nation states such as the UK were instrumental in their rise, there has never been a concerted international response to address this. Indeed it has taken the leaking of two troves of information for the eyes of the international community to turn towards tax havens.
The role played by IFCs in the global economy is today unparalleled compared to any other time in history.
the OECD in 2007 estimated that capital held offshore amounted to between $5 trillion and $7 trillion, making up 6-8% of total global investments under management
the US Government Accountability Office (GAO), in 2009, reported that 83 of the 100 largest US publicly traded corporations and 63 of the 100 largest contractors for the US federal government were maintaining subsidiaries in countries generally considered havens for avoiding taxes
the Tax Justice Network, a pressure group of economists who are calling for an end to tax havens, found in 2012 that the "super-rich" had $21 trillion in IFCs at the end of 2010
according to economist Gabriel Zucman, 8% of global wealth is held offshore
corporate tax avoidance costs governments $500 billion a year, and personal tax avoidance costs $200 billion a year
at the end of 2016 the giant US technology companies alone were estimated by Moody's Investors Service to have $1.84 trillion (£1.4 trillion) of cash held offshore
It is due to the astronomical size of the figures being reported that the international community began asking questions of IFCs in the early 2000s. Beyond the figures on display, there was concern that these numbers were being inflated by illicit and criminal profits which could then be hidden or laundered through offshore centres.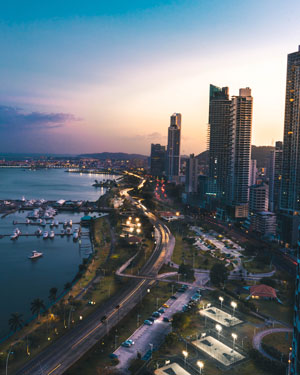 Pressure groups such as the Tax Justice Network argue that tax havens allow wealthy corporations or individuals to move money abroad to avoid paying taxes in their home countries. As well as the multitude of companies and individuals reported in the Panama Papers and Paradise Papers, other notables include Amazon paying very limited tax to the UK Exchequer by basing itself in Luxembourg, and Starbucks paying itself royalties to lower its tax burden. Money not paid to the UK Treasury in the form of tax means vital public services from hospitals and schools to roads and other capital projects cannot receive sufficient funding.
Proponents of IFCs counter that the tax rate for business and individuals is significantly lower than it was a generation ago, and that IFCs have played a part in this reduction. By offering wealthy investors with an alternative to a high tax jurisdiction, IFCs have forced nation states to become competitive in their tax policies. Supporters argue that where taxes are high, saving is discouraged, and lower levels of investments stifle economic growth. It is better for governments to get some revenue with modest tax rates than impose high tax rates and lose out completely.
They further argue that those who are at risk of persecution in their home country can hide their money and assets in IFCs.