The story so far: CRO Steve Hadaway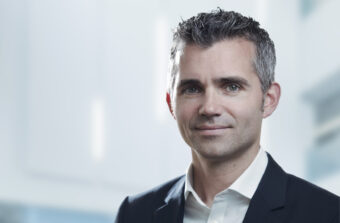 Steve Hadaway joined Encompass in April 2022 as our Chief Revenue Officer.
Noted for his successful track record of achieving exceptional results and instilling a high-performance culture within his teams, Steve joined Encompass at a time of rapid growth and expansion into new territories. After a few months in his new role, we wanted to find out how he's been getting on.
Steve, you've got significant experience in this industry, but has anything stood out to you about today's financial services landscape?
Chatting to many existing and prospective clients over my first few months here, it is clear that every bank I have spoken to is wrestling the very same problem that we help to address: how to meet increasing KYC regulatory demands in a way that is operationally efficient and that helps to digitally transform the organization.
Also worth noting is how often Environmental, Social and Corporate Governance (ESG) themes have cropped up in client conversations. It's clear that ESG concerns are as much on the agenda for executives in Compliance and Operations as they are in other areas of the bank. Automation can deliver significant environmental benefits for our clients, so it's great to have these real-world benefits coming through during discussions.
What challenges have you encountered?
One of the strengths of Encompass' proposition is how it benefits multiple facets of our clients' organizations, such as improving compliance quality, reducing operational costs and enhancing the customer journey. This broad impact means that numerous stakeholders have to be involved in the process, and it can sometimes be complex to navigate large organizations with several levels of people to engage with.
How are you finding the culture at Encompass?
I've been delighted to get to know and work closely with a great team of fun, smart, and committed people. I'm enjoying getting to learn something new every day, and I'm having a lot of fun along the way. I'm also excited about our team's continued growth, most recently with the addition of Bob DeLaney, our new Head of Sales for UK and Ireland, and Phillip Sertel, Head of Sales in Continental Europe.
On a day-to-day basis, I've been impressed with how Encompass has embraced remote working. Like many companies we are adapting to a new normal with hybrid working, and the flexibility benefits that brings. I've noticed that many client meetings now seem to default to remote mode, but I'm also keen to meet in person where we can. Sometimes there's no substitute for face time!
What else should people know about your experience so far?
I'd like to highlight how excited I am about our partnerships, in particular the resellers who are helping extend our value into new verticals – it's great to be working with partners who really understand the problems we're solving together. We're also working with Customer Lifecycle Management (CLM) providers who are integrating with Encompass to access the KYC data it connects to and automate the manual KYC due diligence process to create a broad and cohesive solution, meaning our clients get the benefit of workflows customized to the unique needs of their operating models.
You also might be interested in