Why KYC transformation is imperative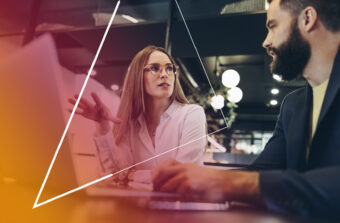 It's no secret that manual KYC is ineffective in detecting or preventing financial wrongdoing.
Accordingly, and in the face of increasing competition from digital-first fintechs, banking executives are now intent on controlling compliance costs through digital transformation. As well as freeing resources for innovation and growth, digital transformation programs enable organizations to offer excellent service throughout the entire customer lifecycle.
This, combined with increasing public pressure on establishing beneficial ownership of assets, means the next area of focus for efficiency-conscious and digitally focused executives is now KYC.
For banking executives intent on making a success of KYC digital transformation, there are three key areas of focus: the intersections between people, process and technology. Finding the right balance between the three is key for success.
People and technology
Poor productivity and mounting operational costs are often a catalyst for automation, so examining the interaction between people and technology offers a good starting point for digital transformation.
During manual KYC, analysts spend considerable amounts of time finding and analyzing data: technology can replace significant parts of this human effort. However, a simple machine/person substitution fails to address the productivity shortcomings of the existing manual process. Successful KYC transformation should result in a value-add position for KYC analysts which focuses on their experience and judgement, such as analysis of high-risk customers.
Rather, care should be taken to design work to encourage enquiry and exploration, which radically improves job satisfaction in KYC, particularly when analysts are motivated by the link between their work, society's need to protect itself against financial crime, and the bank's goal of accelerating customer onboarding to deliver excellent customer service.
Process and technology
Technology offers new efficiencies in discovering and analyzing data, and some banks see an opportunity to fully automate KYC to achieve straight-through processing (STP). Automation technology addresses the major bottlenecks currently faced by banks running manual processes.
Automating KYC as a digital process creates a strong foundation for new and better business-as-usual operations: lifting STP rates is a prime example. Achieving higher rates of STP may be triggered by new regulations, new data sources, innovation from existing data suppliers, or even new capabilities released by an automation vendor.
Another key benefit of technology for KYC processes is its repeatable nature. As regulated entities, banks must be capable of demonstrating to a regulator that they operate within risk-based controls. In a manual process, demonstrating that analysts consistently follow these controls is almost impossible. With appropriate technology, creating a tamper-proof audit trail of all work undertaken in a digital process is straightforward.
People and process
Risk and compliance staff are often frustrated when analysts fail to follow their instructions or attempt to circumvent their controls. Enforcing such controls is difficult in a manual environment.
A well-designed digital process helps analysts deliver high-quality due diligence by allowing risk controls to be embedded directly into a redesigned KYC process. For example, a control stating 'check information source X for facts of ownership, if these facts are not available, check source Y' can be enforced in code so that each time KYC is applied, due diligence is undertaken as intended by the risk and compliance team.
As automated processes define and standardize how analysts work, new hire training is simplified, allowing banks to adjust their KYC team capacity as required. The process and its underlying technology shields new hires from details of which information sources are used and how these are accessed, freeing them to focus on exception-based decision-making.
For a deeper understanding of the imperative for KYC transformation, download our whitepaper.
You also might be interested in