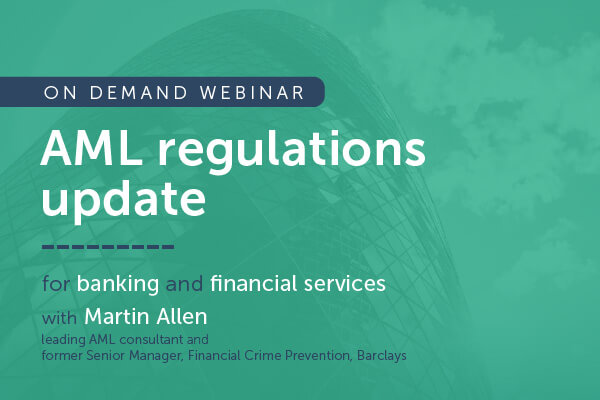 Webinar: AML Regulation Update for Financial Services
Date: Fri 30 June
In this free webinar, join special guest, AML consultant Martin Allen, as we look at the new impact of new regulations on financial services.
Taking place just days after the EU's 4th Anti-Money Laundering Directive becomes law, this webinar is your chance to new gain insight into the impact of the new regulations and learn actionable changes that your firm can understand and implement swiftly.
During the webinar you will learn:
what Anti-Money Laundering is and its history within financial services
what the new regulations say and how they are changing
how your procedural practices should evolve to keep up with the new regulations
how other firms are implementing swift changes to their practice management and staff training agendas
book your place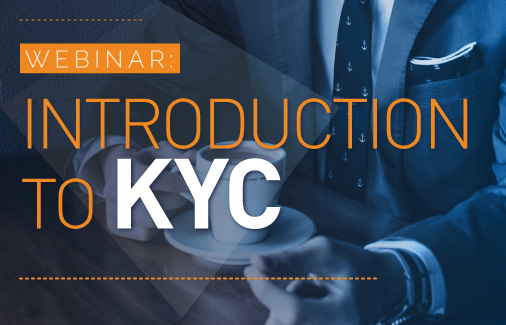 Webinar: Introduction to KYC for Professional Service Firms
Dates: Wed 28 June | Wed 26 July
You know your firm needs to do it, you know we all have responsibility for it, but where has KYC come from and why is it important?
During this short, informative webinar we explore the background of KYC for legal and accountancy and look deeper into the implications it has on firms today. Exploring the current regulations which are in place to help combat money laundering and terrorism financing and investigates the business process of KYC and how digitisation and automation can offer a way forward for legal and accountancy firms looking to adapt and improve processes.
Taking examples from the banking and finance industry this webinar will cover:
The Problem we face today
The Implications of AML/CTF regulations on KYC processes
Current Solutions used in firms worldwide
What is the future of KYC in professional services?
The benefits of automation in assuring robust and consistent adherence to policy
What potential economic impact automation and digitisation will have on the regulatory landscape
Q&A Session
book your place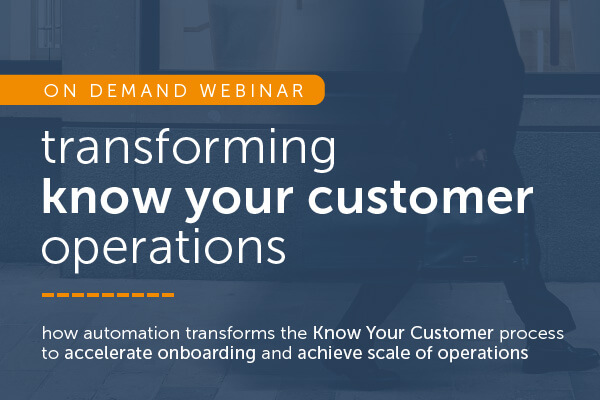 Webinar: Transforming Know Your Customer Operations
Date: Wed 12 July
The financial services sector has been challenged by falling confidence and increasing regulatory pressure.
At such times, onboarding new customer effectively and at low cost is a business imperative. The problem is how institutions do Know Your Customer (KYC) checks: outdated business processes hinder flow of information, and put automation's potential to create real economic benefits beyond reach.
This free 30 minute webinar investigates the KYC process to offer a way forward for financial services and other firms looking to improve outcomes for all involved in KYC processing and customer onboarding. During the webinar you will learn about:
What challenges the financial services sector face today
The specific regulatory demands on firms throughout the due diligence checks
The maturation of the three step onboarding process: Assess, Plan, Do
The new opportunities for growth and scale through the use of digital systems and automation
book your place
Frequently Asked Questions
I can't make any of the available dates for your webinar, can I choose another time?
Yes, of course. We know that finding the time in a busy working day can be tough, and your schedule could change quickly, which is why we have set up our on demand webinar service. We can also provide the slides for our webinars – simply email webinars@encompasscorporation.com and our team will get back to you. We don't currently have on demand versions of our product overview webinars, but we can arrange a personalised overview by contacting us at the address above.
How do I login to your webinar?
Once you've registered for a webinar you will receive a confirmation email. Closer to the time we'll send you another email with the details on how to join.  We use GoToWebinar and all you need is access to the internet – no need to download any additional software.
Do I need to mute myself?
Don't worry, we will take care of all the webinar settings.  You can either call in to hear the audio, or use your computer speakers, whichever is easiest for you.
Do I have to watch the webinar live, or can I view it later?
The webinar page is blocked on my computer?
If you cannot view the webinar webpage from your computer then you will need to speak to your IT team to allow access. If you use a mobile device or tablet, why not try the GotoMeeting App? Alternatively contact our team at webinars@encompasscorporation.com and we can try an alternative method for you.
Multiple Data Sources
Single point of access to a growing list of commercial data sources.
KYC Policy Automation
Complete AML/CTF checks on one or one thousand customers.
Streamline Processes
Save time and money on data research, discovery and analysis.
What Our Customers Are Saying
Don't just take it from us, let our customers do the talking!
"Just consider the improvement potential: three hours of a senior lawyer's time reduced to 30 seconds, while producing a result with significant improvement in accuracy compared to the long-established way of searching. Using Encompass Verify transforms any lawyer into a power researcher."
Chris Jones
"We didn't want the discussion in the client meeting to be limited to hypotheticals. Encompass enabled us to quickly understand the situation and provide meaningful advice to the client regarding the various registered security interests. Our prompt response surpassed the expectations of our client."
Chris Wilkinson
"When you're in the early stage of an investigation you are constantly hypothesising, wondering and searching. With Encompass, we can get the answers we need immediately. Sometimes the system seems to work as fast as you are thinking."
Dean Newlan
discover what encompass can do for you
Ready to learn how encompass can accelerate your client onboarding and compliance checks?
Fill out the form to request your personalised consultation on how encompass can help your business. Alternatively you can contact our team directly on 0333 772 0002.