request your consultation
Request your consultation today and learn how encompass can help your business:
accelerate client onboarding, dramatically reducing unbillable hours and providing faster time to revenue
minimise risk and error with advanced KYC policy automation
visualise complex corporate structures, helping you rapidly identify ultimate beneficial owners
quickly recheck and update client information whenever you need
mitigate risk of reputational damage and fines with consistent policy fulfilment and a robust, effortlessly generated KYC audit trail
Access encompass securely through our browser application or integrate into your existing system with our API, connecting your business to over 25 information providers, including the leading credit, business and AML screening sources such as Thomson Reuters World Check, Experian, Dow Jones Risk & Compliance, Dun & Bradstreet, Bureau van Dijk and LexisNexis World Compliance.
what happens next?
Once you have filled in the form a member of our team will be in touch to arrange a time that suits you for your consultation on how encompass can help your business.
key features of encompass
secure cloud access
encompass is a Software-as-a-Service solution – accessed through your browser or as an API, there is no need for expensive hardware, major upfront costs or time-consuming installation and maintenance.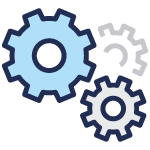 advanced KYC automation
Whether onboarding one customer or one thousand, encompass provides automated, rapid AML/CTF checks, so you can be guaranteed you are meeting the needs of internal policies
customer success
Alongside in-product live help, our dedicated Customer Success team are on hand from the very start to help you make the most of encompass.
what our customers are saying
"Just consider the improvement potential: three hours of a senior lawyer's time reduced to 30 seconds, while producing a result with significant improvement in accuracy compared to the long-established way of searching. Using encompass transforms any lawyer into a power researcher." Chris Jones
"encompass makes it simple and fast to research multiple versions of a director's name, and to draw out all the connections. You couldn't possibly do this efficiently by searching manually. Automating this work to take advantage of digitised information reduces costs and so supports our firm's commitment to be value-driven and cost-effective." Mike Pavitt
"When you're in the early stage of an investigation you are constantly hypothesising, wondering and searching. With encompass, we can get the answers we need immediately. Sometimes the system seems to work as fast as you are thinking." Dean Newlan