Celebrating International Women's Day 2021: The Encompass view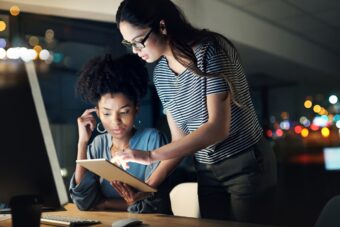 This week, we are celebrating International Women's Day, which recognises the social, economic, cultural, and political achievements of women around the world.
We are sharing the stories and experiences of leading female figures across law, financial services and RegTech, telling, in their words, what it is like to work in their industry and how they have succeeded.
To end the week, we asked our Partnerships Director, Tina Valand – who champions diversity and inclusion and inspiring women to reach their goals – to reflect on what International Women's Day means to her, among other things…
Tell us a bit about yourself…
I am a Partnerships Director. I studied Computer Science, and had a passion for art and design. Early in my career, I joined Accenture, where I focused on web design and information systems, before moving into a more industry focused role.
That was what took me to PwC, where I concentrated on large scale digital transformation in financial services, among other things. My last few years there saw me take up a role in strategic alliances, working with FinTechs, software vendors and driving innovation.
Personally, as I said, I enjoy art – painting and drawing – and, in my spare time, I love to go for long country walks and spend time with my two children.
Why did you choose to work in the RegTech industry?
Coming to Encompass, I knew that it was an exciting time to grow partnerships, and that attracted me. In terms of RegTech, I enjoy the innovative ways of working, and that we are able to move with the market in a smaller, more dynamic company.
We have an opportunity to help companies adhere to regulatory change and compliance – it's about doing the right thing, getting companies in the position where they can respond quickly and stop financial crime. I have also been continually inspired by people I have met along the way, whose values have aligned to mine- family, working as a team, collaborating to find the way forward.
The theme for this year's IWD is 'choose to challenge' – what would you do to improve opportunities for women and equality in the workplace?
The current climate, especially, has driven the ability to work flexibly. It's shown that businesses, especially in technology, can sustain flexible working and get the best out of people, so it's important to leverage this.
In regards to 'choose to challenge,' I think this message is key to reminding us all to take a moment to think about what we want to challenge – whether it be ourselves, ratios, whatever it is – and drive collective change.
Have you faced any hurdles because of your gender?
Everyone faces challenges – it's about overcoming and learning from them, and then sharing your experiences with others. Groups like Women in FinTech, Women in Alliances and WeAreTechNetworks have really shown me how important it is to help others and talk through what we have all faced so we can find our way through any of these challenges together.
There is nothing that compares to real life experiences and applying them to your own situations.
How do you feel as a woman at Encompass?
Support really comes from the top, that's what makes success, and that's what I think we have here at Encompass. We focus on our people and are open to change – that's where it all starts. From my own point of view, the partnerships team is diverse and I look forward to seeing how things develop.
IWD is a time to pause and challenge inequality, highlighting the things you commit to achieving for future generations.

Tina Valand | Encompass
On International Women's Day, what is the most important message you want to send out to young women thinking about their careers?
Always reach out and be open – that's when you learn most, by listening to other people. Meeting the right people has been the core of my success and has given me a diverse viewpoint, and that is crucial, I think.
Who is your role model?
Anne Boden, CEO of Starling Bank.
What does IWD mean to you?
It is about unity, having a voice, and working to bring change. A time to pause and challenge inequality, highlighting the things you commit to achieving for future generations.
The Encompass View
Looking at what organizations can do to encourage and support diversity and inclusion, our Recruitment & HR Coordinator, Alexandra Dragomir, said:
At Encompass, we are proud to have a diverse workforce and know how important it is to help them to reach their goals and potential in a supportive environment. As we mark International Women's Day this week, it is key that we recognise what organizations can do to encourage female talent within their business, and industry as a whole.

This starts with your hiring process, particularly job descriptions. Are you considering how you can make these relevant and inclusive to applicants from a wide range of backgrounds? It is about showing that you are open-minded and welcoming from the outset, so that people will want to work for you. That also applies to the interview process – particularly at this time, candidates want flexibility and to feel that their needs would be taken into account across the board, so we must be mindful of individual circumstances through the process.

And the journey doesn't stop there – we are continuously supporting our women in technology through a number of initiatives, including sponsoring our employees' participation in the Women in Technology World Series online festival, which provides great tools that support women in their mission to achieve their career goals.

Finally, don't forget that your employer brand and the message you send out creates a real impression, so it is key to highlight and recognise the achievements of your employees outwardly. Here, we celebrate our staff, championing their efforts and the difference they make, not just on International Women's Day, but every day.
You also might be interested in