Encompass Committed to Development of Young People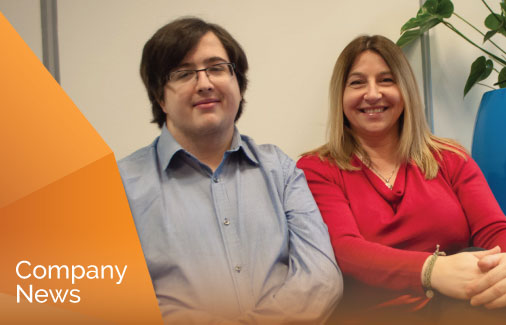 Despite only arriving in Glasgow from Australia in early 2015, Encompass Corporation, a leading provider of KYC automation software used in financial and professional services organizations, has already attracted a reputation for being committed to the development of its young people.
One such example is of Finlay Wilkinson, a member of the Encompass marketing team.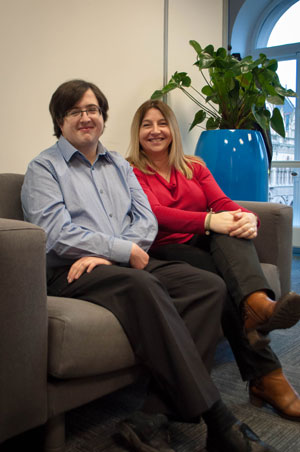 In November 2015, after a period of unemployment, Finlay was recommended by his local Jobcenter to begin a seven week course through the BBC's 'Make it Digital' programme because of his interest in digital marketing. This course taught Finlay digital skills like HTML coding, web design and video editing. Work-based skills like interview skills, CV building and team building were also taught.
"I'd always had an interest in digital marketing" says Finlay. "So when my local Jobcenter adviser suggested I take this course, I jumped at the chance. The opportunity to progress my skills was really important to me, and I was confident that taking this course would help me secure full-time employment."
Following completion of the seven week course, and filled with confidence in his digital skills and ability to find a job, Finlay was invited to attend the BBC Make It Digital Launch day in November 2015. At the launch day, candidates who had completed the course were offered introductions to potential employers and it was here that Finlay met with Susie Kinsella, Marketing Manager at Encompass Corporation.
As well as having a valuable skill set, as acquired through the BBC Make it Digital course, Susie was immediately taken with the enthusiasm that Finlay offered. As a result of this meeting, Susie offered Finlay a three week placement at Encompass, during which time he worked on such projects as social media, Salesforce and CRM-related work, and created a new banner video for the website home page.
Susie Kinsella observes "I was really impressed with the calibre of the individuals who had completed the BBC Course. When I spoke to Finlay, I knew from the way that he described the course that he'd clearly gained a lot from it, and would be a real asset to the Encompass team."
Impressed with the work that Finlay carried out during his three week tenure, Susie offered him a temporary contract. Together, Finlay and Susie investigated further training to bolster his skills, resulting in a digital skills apprenticeship offered by QA Apprenticeships Scotland and covering digital marketing and information technology and telecommunications.
Throughout the course Finlay has received out of office training at the QA Apprenticeships offices in Glasgow, and shadowed members of the Encompass marketing team to complete self-teaching tasks.
As a result of completing this course, and with help from Glasgow City Council who were able to offer funding, Finlay was rewarded with a full-time contract at Encompass.
Susie added:
"The progress that Finlay has made in such a short period of time has been fantastic. From completing the BBC Make it Digital course, to the QA Apprenticeships digital skills apprenticeship, and the work he has done at Encompass, he has made himself an integral part of the Encompass marketing team. I'm sure Finlay will continue to progress his career within marketing in the years to come.

"Although we are a small but growing team at Encompass, we are always keen to invest in talent should the right people be available. Finlay is one example of what can be done for those who are willing to apply themselves."
Finlay said; "It feels terrific to know that there are employers who are willing to place their faith in young people without huge amounts of experience. Not being in work can be difficult, but to know that there are young and vibrant companies working in the Glasgow area willing to give young people an opportunity is great. I hope to continue learning and developing my skills within a digital marketing capacity at Encompass."
Jonathan Warner, Director of QA Apprenticeships Scotland, says:
"We've created over several thousand careers in Scotland, and Finlay's story highlights the value QA Apprenticeships bring to both young people and employers. We will continue to meet the needs of employers with our range of high-quality programmes, and ensure our apprenticeships are an effective development route to get Scotland's young people into great careers."
ABOUT ENCOMPASS
Founded in 2011 by entrepreneurs Roger Carson and Wayne Johnson, and operating from the UK, Encompass Corporation is the creator of unique, innovative KYC software for banking, finance, legal and accountancy that enable better, faster commercial decisions. The company is driven by the belief that the best decisions are made when people understand the full picture.
Want to turn regulation compliance in to a competitive advantage?
Contact us today to arrange your personalised demonstration of Encompass. Discover how our KYC automation software can help your business accelerate onboarding and give you peace of mind that you are regulator ready.
You also might be interested in