Employing the World's Best Compliance Professional
You know it has been a quick year when you sit down to write this and find that it is now less than a month (26 June) until the 2017 Money Laundering Regulations are implemented in the UK.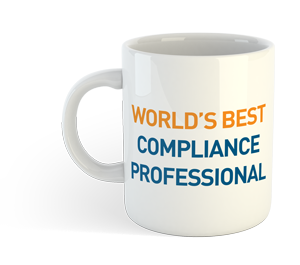 Working alongside professional and legal service providers as I do, I continue to be struck by the lack of informed decision making within firms as we move towards the implementation of the regulations. These regulations – as I have discussed at length – are game changers for the regulated sectors.
As I've stated, the fines and sanctions that we have seen levied against the big players in the financial services sector will now apply equally to law firms, accountants and professional services firms. If the regulators should choose, they will have it within their power to impose fines, the size of which could have catastrophic impacts, particularly for smaller firms.
To restate, all companies in these sectors must be prepared for these regulations and be prepared imminently.
solutions for compliance
For those shouting at their monitors seeking a solution, thankfully, platforms such as encompass verify do exist, and can be configured to meet every facet of the new Money Laundering Regulations.
Understanding how to utilise the solutions that are available can be challenging. In this piece I will endeavour to draw out the difference between a platform such as Encompass and an information provider, explain the work of a risk professional and then compare and contrast the two, in order to outline why I believe a platform such as encompass verify has the potential to be the best risk employee you will ever employ.
options, or lack, thereof
To articulate the effectiveness of an AML platform such as encompass verify, we need to consider the options as they currently stand.
The new regulations call for more detailed checks to be enacted. Therefore, a greater amount of KYC checks will be made against each customer as they are onboarded. To continue onboarding customers at the same rate, either technology needs to be implemented that can take the workload off the individuals undertaking the KYC checks, or indeed, more human capacity will be required. Of course, there is also the option to curtail the volume of customers that are onboarded, or, even lengthen the onboarding time. This is a legitimate option, though the ramifications, such as potential clients walking away and longer lead times to billing, should also be considered.
information providers
There are myriad data or information providers available on the market today and all will satisfy KYC needs to a greater or lesser degree. Some will focus on individuals, their directorships, source of wealth and whether they are PEPs. Others will focus on company and company make-up, including who the directors are, their financials and Ultimate Beneficial Ownership.
platforms
encompass verify is different.
encompass verify products aggregate and visualise the collective information from a whole suite of information providers and offer it to you as a visual representation of a person or company. encompass verify currently has integrated in excess of 14 different information providers including all five leading UK Business Information providers – Experian, Equifax, Dun & Bradstreet, CreditSafe and Bureau Van Dijk – as well as providers of PEPs, Sanctions and Adverse News and electronic verification such as Thomson Reuters World Check, Dow Jones Risk & Compliance and GBG Group. encompass also boasts a wide geographic coverage of company registration information with its integration of OpenCorporates.
For those using encompass verify, the main advantages are that running checks can now be completed in seconds, using several information providers, with all the information presented on a single screen, offering the full picture with the click of a button and in seconds.
risk professionals
In the financial services sector, where they have been dealing with the ramifications of enhanced scrutiny for many years, risk and compliance professionals are currently some of the most sought after individuals in the sector. With the legal and professional services joining the finance sector in their levels of scrutiny, I do not think it will be long before compliance professionals begin to be fought over.
Risk professionals are by their very nature, highly trained, meticulous and skilled in what they do, which is why they are able to command high levels of remuneration. Banks have spent millions of pounds in the intake and training of these professionals in order to satisfy the needs of ongoing legislation. Should legal and professional services firms decide to go down the same route, they should, if they employ in sufficient volumes, satisfy the needs of the new requirements. The cost outlay for such professionals, as well as future costs on necessities such as training, will certainly be sufficiently high for some firms to consider whether there may be a smarter option.
What I have sought to illustrate above, is that while there has been confusion between an information provider, and the role of risk personnel and platforms such as Encompass, each are very different entities, with different capabilities.
Money Laundering Regulations 2017
As I mentioned at the top of the article, the new legislation coming into play from the end of June will change everything for legal and professional services firms. Whether it is a central onboarding team, or partners who undertake the KYC process, it will involve far more work to generate the same result of a happy client onboarded in the minimum of time.
The new legislation calls for all sources to be externally verified. To do this manually would involve a substantial undertaking, but by using a tool such as encompass verify with in excess of 14 information providers, this can be executed very quickly indeed.
your best ever employee
Risk and compliance is a complex issue that can have serious consequences for those that do not follow Anti-Money Laundering or Counter Terrorism Financing laws to the letter. If countered in the traditional manner using manual labour, the effects of the new requirements call for an increase in volume of risk professionals.
By contrast, using a SaaS tool such as encompass verify can ensure compliance is met and customers are onboarded more quickly than any human can. Through the power of automation, KYC policies can be executed to the same standard every time, with audit trails generated for investigation. By not only removing the need for more compliance professionals, but freeing up the time of existing employees, encompass verify has the added bonus that the existing team can now focus their attention on complex or failed onboards.
Put simply, encompass verify can be the best risk professional you will ever hire.
closing thoughts
When your requirements face unprecedented change, it is only right that you seek a comprehensive solution. The Money Laundering Regulations will change everything about risk and compliance for regulated firms and as such, it is only right that they seek an answer that is comprehensive, timely and cost effective.
As I've illustrated above, although the new regulations are much stricter, they can be countered with large volumes of additional manpower. While the obligatory collection and assimilation of additional information will create far greater volumes of work, this data also needs to be cross referenced against third party information providers, with a resultant volume of work that is far in excess of what is being carried out today.
Fortunately – timely, cost effective and fully automated software exists today that can remove the stress of KYC checks, generate an audit trail, check data against multiple sources and free up the time of compliance professionals to work on complex cases.
Your best ever employee is here. Welcome, encompass verify.
about encompass
Founded in 2011 by entrepreneurs Roger Carson and Wayne Johnson, and operating from the UK, encompass is the creator of unique, innovative KYC software for banking, finance, legal and accountancy that enable better, faster commercial decisions. The company is driven by the belief that the best decisions are made when people understand the full picture.
want to turn regulation compliance
in to a competitive advantage?
Contact us today to arrange your personalised consultation of encompass verify.
Discover how our KYC automation software can help your business accelerate onboarding and give you peace of mind that you are regulator ready.