Encompass highly commended at Regulation Asia Awards 2019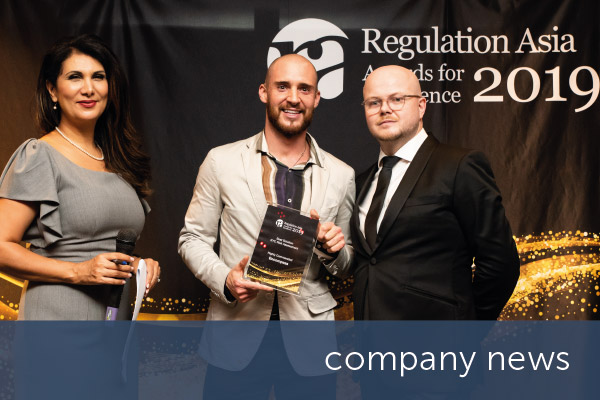 Encompass is delighted to have been highly commended in the 'Best Solutions' category for KYC Risk Assessment at the Regulation Asia Awards for Excellence 2019.
With the winners announced at a ceremony in Singapore on Wednesday evening, the event marked the second annual Regulation Asia Awards for Excellence. The Awards recognises technology companies, legal and consulting firms and exchanges that have shaped the regulatory landscape in Asia Pacific.
It's also a chance for technology projects, operating within both mature and emerging markets, that help to meet the requirements of a specific regulatory change infrastructure to receive a nod. In highlighting Encompass' success, the judging panel – made up of subject-matter experts and the Regulation Asia editorial team – praised its intelligent process automation solution, which solves many of the complex and demanding challenges of KYC compliance.
The solution, which has been proven to reduce the time taken to access, gather and analyze required data by at least 80%, also eliminates human error and ensures consistently high quality of data.
Giving their verdict, one judge highlighted that Encompass' "clear and complete one-stop solution" allows financial institutions to perform KYC analysis of their clients at onboarding, review and trigger event, while providing "deep connectivity" to hundreds of public and private data sources. The solution also dynamically builds smart visualizations of corporate ownership structures and individuals' business networks, maintaining all source data, original documents and other risk intelligence in customer profiles, which are continually monitored for material changes.
One of the solution's other key advantages, according to the judging panel, is its ability to take into account a financial institution's internal policies in the implementation stage, while still allowing for go-live in a matter of weeks.
It's the second time Encompass' work has been rewarded by the panel, after being Highly Commended in the RegTech category for AI & Machine Learning capabilities in 2018.
David Williams, Encompass' Sales Director APAC, said:
It's a fantastic achievement for us to be recognised at the Regulation Asia Awards for Excellence for the second year running. It's a testament to the hard work of our team and what our product offers that we were selected from a particularly impressive category. We are delighted that the judges recognise what we bring to customers in Asia Pacific and we are focused on continuing to deliver the very best.
You also might be interested in