Encompass partners with Sanctus to support employee wellbeing and development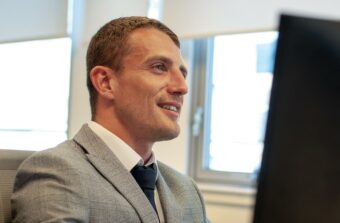 Encompass has teamed up with Sanctus, the personal coaching provider, to support our employees' mental health and wellbeing in the workplace.
During the last 18 months, especially, we know the challenges and pressures that our team has faced, both individually and collectively, as we have coped with circumstances that none of us could have been prepared for.
As a company, our people are our success. They are what make Encompass what it is and we strive to put them at the center of everything we do. It is for that reason that we are proud to have launched our first programme with Sanctus, offering our global staff advice and personal coaching on a number of issues that may be important to them.
With this partnership, employees will have the opportunity to regularly speak with coaches during 1-1 online sessions and find guidance in their professional and personal lives. The expert team will be on hand to talk about anything from how to deal with nerves before a meeting and situations at home, to sharing tips on how to stay focused throughout the day.
Sanctus coaches work with dozens of businesses, helping thousands of employees to proactively talk about their mental health, and have the goal of, one day, bringing the world's first mental health gyms to the high street.
Commenting on what the partnership means for Encompass, VP, Finance, Stuart Barnard, said:
We have been working hard to provide a supportive and inclusive environment and culture, particularly given the challenges of the last year and as we consider what a post-pandemic work life looks like here at Encompass.

Everyone has their own mental health to consider, and we are determined to advocate for positive awareness and prioritize actions

We are delighted to partner with Sanctus to provide all our teams with a personal coach to proactively support mental health, as well as personal and professional development.
You also might be interested in