Encompass shortlisted in the RegTech Insight Awards 2020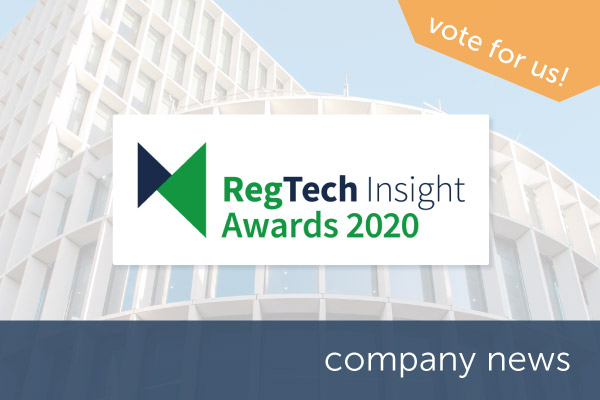 Encompass has been shortlisted in the RegTech Insight Awards 2020.
The RegTech Insight Awards celebrate providers of leading regtech solutions, services and consultancy.
They are designed to recognise both start-up and established providers who offer creative solutions that assist in dealing with regulatory challenges and meet a wide range of requirements.
Attracting more entrants than ever before this year, the level of competition to reach the final stage was high.
A panel of industry experts, including representatives from Citi, Deutsche Bank AG and International RegTech Association, among others, selected those who would vie for the top prizes, with Encompass making the shortlist in the 'Best Data Solution for KYC' category.
Voting is now open and, if you haven't done so already, you can show your support for us in this short survey. You have until Wednesday 25 March to cast your vote.
Commenting on our inclusion, Encompass CEO and co-founder, Wayne Johnson, said:
We are delighted to have been shortlisted in our category at the RegTech Insight Awards 2020.

This, particularly with the volume of entrants being so high, highlights, yet again, the work we are doing to support our clients by delivering a best-in-class solution.

2020 is shaping up to be a big year for Encompass, with our focus being on continuing to develop and expand what we offer, and recognition such as this points to the strides that we are taking.
You also might be interested in