Exploring pKYC in Asia-Pacific – Howard Wimpory's top takeaways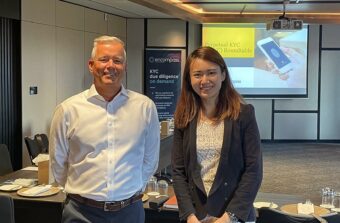 The focus on perpetual KYC (pKYC), its benefits, and the journey ahead for financial institutions looking to unlock these benefits is accelerating globally.
With the work of Encompass' pKYC Advisory Board ongoing, and insightful discussions on the topic already having taken place in the UK, Europe, and Asia-Pacific, last week, we continued the conversation during a roundtable event in Singapore, hosted in conjunction with PwC.
Attended by representatives from top global and regional banks, the discussion, chaired by Encompass' KYC Transformation Director, Howard Wimpory, focused on regional drivers for pKYC, the place of regulators, and more. Here, Howard shares his key takeaways…
pKYC by definition
This was a lively event, with varied discussion, and one of the focal points was coming to a common viewpoint on the definition of pKYC. For our attendees, this was: Transforming from periodic to exception-based reviews, consequently creating a balance between efficiency and effectiveness. It was also said that an important advantage of the process was quicker identification of material risk changes facilitated by the automated reviews of cases where no changes have occurred.
It was agreed that pKYC as an operating model works only by reviewing the rules regularly and gathering feedback from all departments involved – there must be buy-in at each level of an organization.
The desire for change
Examining the drivers for pKYC in other regions had previously told us that they centered on reducing risk, costs, and increasing efficiency. Listening to the views in the room in Singapore, it was clear that this is a common thread and, as with a transformation of any scale, anywhere, gaining stakeholder engagement and support continues to stand out as essential.
Although at the early stages of evaluating the pKYC approach, attendees were unanimous in their willingness to explore the possibilities – in fact, most viewing these from the same starting point meant that the conversation was, crucially, open and honest.
pKYC, by its nature, should diminish the importance of periodic reviews and be justifiable to regulators by being shown, ultimately, to be more effective.
The question of the need for periodic reviews was considered at length, with it being said that, regionally, event-driven reviews, which could be the alternative, are just starting to be looked at. No matter what the path ahead may be, attendees acknowledged that, as with any pKYC-focused journey, the goal is to find efficiencies and increase operational effectiveness, consequently earning regulator buy-in.
KYC due diligence is evolving
Looking to the future, an interesting point on the agenda was Know Your Customer (KYC) due diligence and the roles within it. KYC due diligence is changing and, as a result, we are seeing an evolution of the role of a KYC analyst, as it moves towards a remit focused more on data analysis and investigation rather than purely data gathering. As a consequence of a deeper, more focused case review, where risk has been identified, case completion times will extend but there will be fewer of them.
What does this mean? The job of a KYC analyst is becoming increasingly meaningful and challenging and, with that, these specialists now require better tools and data – something that will only become more significant as approaches to KYC develop.
What next?
The appetite for learning about pKYC and how to plan an impactful undertaking is obvious. With many organizations at a similar point on the transformation cycle, there is much to be considered.
There is a fundamental need to focus on where and how to begin, as opposed to attempting to solve everything at the outset. As they progress, organizations should look for incremental benefits, move fast, and keep moving, as opposed to planning for the perfect outcome before their journey has even started.
Look out for further discussions about the pKYC landscape in Asia-Pacific and how banks can plot a path to success.
You also might be interested in