The importance of KYC automation in commercial banking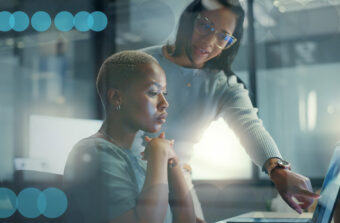 In an increasingly regulated financial world, know your customer (KYC) regulations have emerged as a critical component of banking practices. The importance of KYC automation in commercial banking spans the entire KYC lifecycle including onboarding through to KYC refresh.
How can commercial banks deliver KYC effectively?
Efficiency and accuracy are paramount when conducting high volumes of KYC. Many banks grapple with outdated systems that have morphed into cumbersome processes. Subsequently these systems slow down KYC delivery, hinder customer service and impede growth. As technology continues to reshape banking, automating the KYC process emerges as a game changer.
Automation software can integrate with legacy systems to make them more powerful. Transforming outdated manual processes into efficient, digital workflows. This transformation not only speeds up operations but also improves accuracy, reduces errors, and enhances customer service.
Enhanced efficiency and speed
Traditional manual KYC processes are often time consuming and resource intensive. Banks must collate a vast amount of data and documents from different sources.
Automating KYC reduces errors arising from manual research, data and document collation and manual data entry. As a result, commercial banks can onboard clients faster, process large volumes of refresh to bring the customer book up-to-date quicker. In addition to achieving up to 100% straight through processing (STP) banks benefit from reduced abandonment and can foster a positive customer experience.
Reduced operational costs
Manual KYC processes require significant human resources. Automating the processes mean that banks can reduce their labor costs and redirect them towards more value-added activities. Automation can cross reference information and flag discrepancies, significantly reducing the need for extensive manual oversight.
Enhanced accuracy
Human errors can lead to costly mistakes, particularly when it comes to processing high volumes of KYC. Automation utilizes advanced algorithms to ensure accurate data verification. The technology can easily be updated to comply with ever evolving regulatory frameworks, reducing the risk of non-compliance.
Real-time profiles
KYC automation in commercial banking allows multiple data attributes and documents to be sourced and collated from trusted global public and premium KYC data providers. Data normalization, data primacy rules and entity resolution are applied to build out corporate structures, identify ultimate beneficial owners (UBOs) and create complete digital KYC profiles.
These profiles build a strong foundation for more efficient KYC refresh. Removing the need for duplicate work as the KYC process does not have to commence at the beginning. All source documents are held within the platform with a full data attribute lineage and dynamic audit trail.
Scalability
As the bank grows, the customer base expands, necessitating the need for a scalable solution. Manual KYC processes can become bottlenecks during periods of rapid growth. Automated systems can scale with the growth and handle higher volumes of KYC without compromising on accuracy or speed. Additionally, they can adapt to changing business needs and integrate with other technology such as client lifecycle management (CLM) platforms, creating a more cohesive and efficient digital eco-system.
Enhanced customer experience
A lengthy and cumbersome KYC process can lead to customer abandonment. By automating KYC, banks can streamline onboarding procedures, making it more convenient for customers to engage with their services, both at onboarding and refresh. A smooth and efficient KYC process sets a positive tone for client trust and loyalty.
In summary
Automated KYC processes offer a wealth of advantages for commercial banks. From operational efficiency and cost savings to enhanced accuracy and risk management. By embracing automation, banks can not only improve their internal processes but also provide a seamless and secure experience for their customers. As technology continues to reshape banks, automated KYC procedures stand out as a pivotal step toward modernizing and optimizing commercial banking operations.
You also might be interested in